May 27, 2021
SUNY Empire Welcomes First Accepted Ed.D. Student Jason Fishner
College's first doctoral program in educational leadership and change launches this fall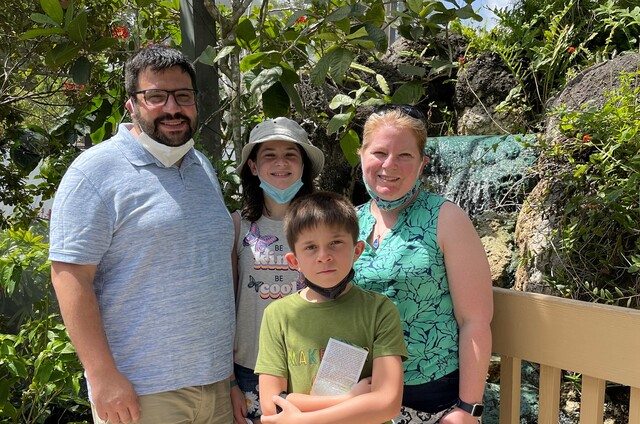 SUNY Empire State College recently received its first confirmation of acceptance into the new Ed.D. in educational leadership and change from Jason Fishner, an alum of its MBA program who also has advanced certificates in project management and human resource management. The 41-year old married father of two holds an M.S. in educational administration and policy studies (higher ed) from UAlbany and an advanced certificate in higher ed administration from Stony Brook. He's also the director of residence life at SUNY Delhi. His wife Carrie is currently working on an advanced certificate in public history at SUNY Empire. ​​​​​​​We spoke to Jason about his decision to enroll in this new doctoral program.
What attracted you to this program?
I consider myself SUNY born and raised, having done all of my education as a student in the Educational Opportunity Program. I also worked on different SUNY campuses as a professional. After I got married and had two children, commuting 90 minutes each way to earn a doctorate was no longer an option since I did not want to miss events as my kids grew up. When I heard SUNY Empire State College might be offering a doctorate related to higher education, I immediately inquired with Graduate Studies and have been keeping an eye out on the website ever since.
How did you land at SUNY Empire the first time?
I started at SUNY Empire in fall 2008 by taking the course "Teamwork." I have always been interested in student leadership and consensus building, so I figured I would give the course a shot since it was going to be my first online course. I loved learning online, and it gave me the flexibility of not having to commute to school, which was a big advantage since the closest campuses offering master's degrees were more than an hour away from me. After I finished my Teamwork course, I realized that with that course and transferring in credits from my previous master's degree, I was 25 percent done with an MBA, so I kept going to earn that.
You've worked in residence life at SUNY Delhi since 2009 and became director three years ago. Describe your holistic approach to your work.
The residence halls are just not a place to live, but also a place to work towards a student's personal growth and development. I want to see students succeed both in and after college. Seeing their growth and development is what motivates me to do what I do. Many students come to college for a fresh start and to be able to see students' change and grow into contributing adults in society is incredible, especially when you know that you aided in that process.
What are your goals?
I love my role in residence life and student affairs. It is a great balance of administration while still having lots of student contact. In the short term, while my kids are still in school, I will likely continue my work at SUNY Delhi. After that, while I can see myself moving up in student affairs, it would need to be at a campus where I still have the opportunity for student contact, so I can assist with their growth and development. This new degree will give me the ability to apply new knowledge in the workplace and to stay competitive in a changing job market when I go to apply for my next job. Being a lifelong learner, taking new courses and learning new information keeps me motivated.