November 16, 2021
SUNY Empire State College Signs Partnership with Restaurant Opportunities Center United
Agreement paves the way for member restaurant workers to earn their college degree through SUNY Empire State College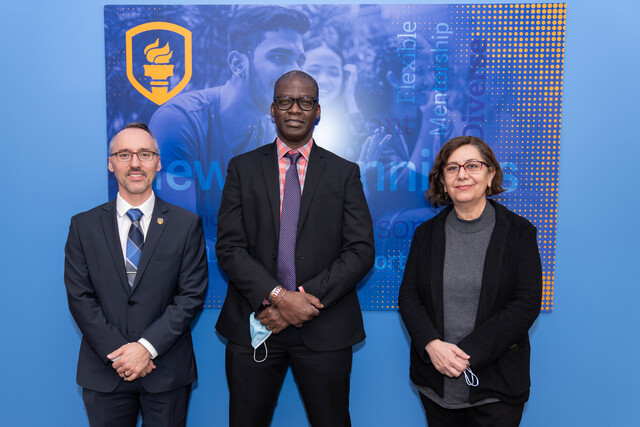 (NEW YORK, NY — November 16, 2021) — SUNY Empire State College and Restaurant Opportunities Center United (ROC United) signed a partnership agreement that gives its members enhanced access to affordable, flexible, online degree programs through SUNY Empire's corporate and community partner benefits program. The signing took place at SUNY Empire's new 4 Park Avenue location in Manhattan.
The partnership is timely. The COVID-19 pandemic hit the restaurant industry particularly hard, with one in six restaurants shutting down in the first six months of the pandemic alone.
According to ROC United's 2020 State of the Restaurant Workers report, nearly six million restaurant workers lost their jobs in 2020, disproportionately impacting women, immigrants and workers of color. In addition, the report states that restaurant workers are more than twice as likely to live in poverty than the general workforce. And statistics from the U.S. Department of Labor show that since the pandemic hit the United States, unemployment in the restaurant industry has far surpassed the private sector as a whole.
The agreement with SUNY Empire provides eligible participants with a $50 orientation-fee waiver and a one-time $100 Better Together Scholarship. In addition, the partnership opens opportunities for ROC United and SUNY Empire to identify areas of training received as a member or employee of ROC United that can be evaluated for college-level credit, saving partnership participants time and money.
SUNY Empire offers more than 110 online undergraduate, graduate, and certificate programs, including associate and bachelor's degree programs in business, management and economics, and human resource management, as well as a Master of Business Administration and Master of Arts in work and labor policy.
SUNY Empire State College Officer in Charge Nathan Gonyea said, "This partnership speaks to the power of educational access — and the empowerment of people when the doors to higher education are opened to them. Together with ROC United, SUNY Empire will provide more convenient, more affordable access to academic opportunity for restaurant workers throughout the New York metro area and across the nation, putting their dreams of a college degree and career advancement within reach."
SUNY Empire State College's Harry Van Arsdale Jr. School of Labor Studies Dean Maria Figueroa said, "The SUNY Empire School of Labor is honored to partner with ROC United to offer professional advancement opportunities for restaurant workers. The restaurant industry is a key sector of the economy and the social fabric of New York, as it has contributed to revitalizing and sustaining local economies in this city and across the country. We are excited to collaborate with our new partners to offer programs in labor studies and other relevant fields to restaurant workers, as well as the opportunity for them to achieve a college degree."
New York State Senator Jessica Ramos, 13th Senate District said, "Partnerships like this one between ROC-NY and SUNY Empire demonstrate an important advancement in thinking on the realities working people face as they try to pursue an education and build a future for themselves. Flexible, affordable, and accessible higher education through CUNY and SUNY is a source of pride for our state, and I'm thrilled to see the beginning of a collaboration that offers restaurant workers and their families tangible opportunities for growth and learning."
ROC United President and CEO, Sekou Siby said, "The pandemic has remarkably changed social norms and business landscapes, altering various segments of the restaurant industry for good. This is why training and education have never been more important for restaurant workers. Our partnership with SUNY Empire is fundamental to the workers' empowerment and professional growth. Together we will make progress on ensuring that all restaurant workers will have access to the resources they need, and find a career that allows them to have meaningful and productive employment and make a positive contribution to their communities."
SUNY Empire State College Executive Director, Office of Partnerships, Sue Epstein said, "The restaurant industry was hit hard by the COVID-19 pandemic. We're confident that SUNY Empire's flexible educational model, including our ability to recognize college-level learning that takes place outside of the classroom, will help ROC United members earn their degrees sooner and more affordably, which will help them move forward in their professional endeavors. We look forward to working with ROC United and their members in this partnership."
For more information, or to inquire about community college or corporate partnership opportunities with SUNY Empire State College, visit the college's partnership programs page.
###