January 8, 2021
SUNY Empire State College and Sunbridge Institute Reaffirm Commitment to Education for Adult Learners
Academic Pathway Agreement Lowers Cost and Time to Degree Completion Through SUNY Empire's Professional Learning Evaluation Process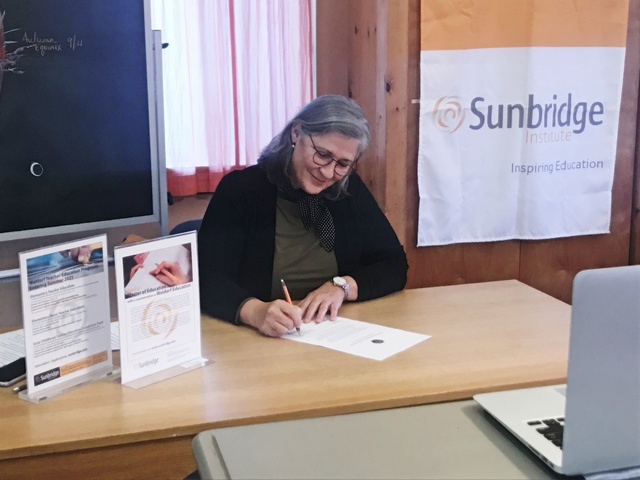 (SARATOGA SPRINGS, NEW YORK – January 8, 2021) SUNY Empire State College and Sunbridge Institute yesterday renewed an existing academic pathway agreement between the two institutions to increase access to education for adult learners.
In 2015, SUNY Empire State College partnered with Sunbridge Institute to provide its students a pathway to earning a Master of Education (M.Ed) in Curriculum and Instructor with a self-designed concentration in Waldorf Education. Developed in Europe more than a century ago, Waldorf Education is a worldwide independent school movement focused on nurturing and engaging children through a curriculum and methodology that integrates academics, arts, and practical skills.
With this renewal, the partnership has expanded to include a pathway to the M.A. in Liberal Studies program and streamlines students' ability to earn credit toward the Curriculum and Instruction and Liberal Studies programs through SUNY Empire's Professional Learning Evaluation Process (PLE). Through this PLE process, SUNY Empire has pre-evaluated the graduate level learning students gain from Sunbridge Institute's Waldorf early childhood or elementary teacher education programs. This allows SUNY Empire to automatically award any student who successfully completes either of these programs and enrolls in either the Curriculum and Instruction or Liberal Studies programs 12 elective credits. This pathway agreement is the first-of-its-kind at the graduate level at SUNY Empire, and not only eases the transfer between institutions, but reduces the overall cost and time needed to complete a degree.
"As the former dean of SUNY Empire's School for Graduate Studies, I am especially proud of this renewal with Sunbridge Institute," said SUNY Empire State College Officer in Charge Nathan Gonyea. "This achievement highlights our collective dedication to serving and supporting the success of our students, and all we can achieve when we work together in new and creative ways. Very few institutions can boast a relationship like this, and it's truly a credit to everyone who worked so hard to nurture and grow this partnership. It is a privilege to partner with an institution whose values mirror our own, and who shares a similar commitment to preparing educators who help change the lives of their students."
"Sunbridge Institute is very excited to be celebrating and expanding its partnership with SUNY Empire State College," said Sunbridge Institute Executive Director Jessica Heffernan Ziegler. "We believe the SUNY Empire coursework and experience to be a valuable complement to our Waldorf teacher education programs, and value the opportunity this partnership affords our students and graduates to be part of a broader academic conversation while applying their Sunbridge studies toward earning an advanced degree."
As part of the agreement, SUNY Empire will also waive the orientation fee for incoming students, and offers a $100 scholarship upon acceptance. Sunbridge Institute employees, retirees, and their family members are also eligible. Please click here to view images from today's virtual event.
About Sunbridge Institute
Sunbridge Institute is a not-for-profit adult learning institute offering programs, courses, and workshops in Waldorf Education, teaching, and leadership for Waldorf teachers, teachers-in-training, and others interested in learning more about this worldwide educational system based on the natural development of the child. As North America's oldest Waldorf teacher education institute, with a worldwide reputation for excellence in Waldorf teacher preparation, Sunbridge offers abundant opportunities for the development and nurturing of professional and personal capacities. Sunbridge recognizes the importance of supporting adults in their development as teachers and is dedicated to advancing the principles of diversity, equity, and inclusion in its work.
About SUNY Empire State College

SUNY Empire State College educates 16,000 students per year in person, online, and through a blend of both, at locations in every region of New York and at eight international sites worldwide. Together with one of SUNY Empire's 800 faculty mentors, each student designs their own individualized pathway to a college degree that accommodates their schedule and awards credit for prior college-level learning. SUNY Empire awards more than 3,000 degrees annually and 94 percent of graduates stay in New York state. Today, more than 89,000 SUNY Empire alumni are entrepreneurs, veterans, and active members of the military, professional athletes, teachers, medical professionals, and leaders in their field, as well as in their communities. To learn more, visit www.esc.edu and follow the college on social media @SUNYEmpire.