May 11, 2021
SUNY Empire Partners with NYS Office for People with Developmental Disabilities
Agreement Extends Special Program Benefits to OPWDD Degree Seekers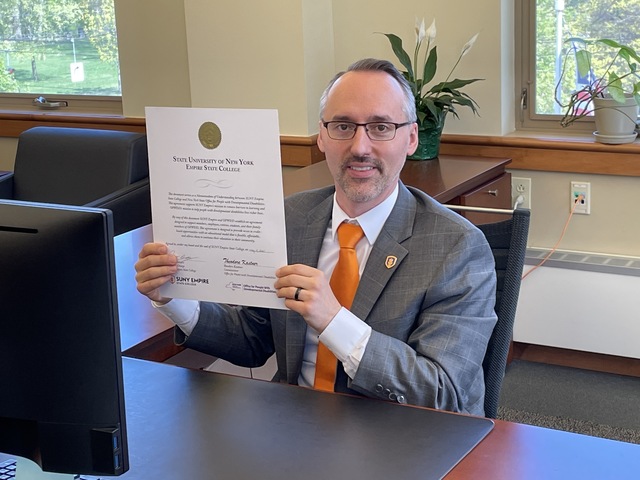 (SARATOGA SPRINGS, NY – May 11, 2021) SUNY Empire State College and the New York State Office for People with Developmental Disabilities (OPWDD) today announced a new partnership that will increase access to education, simplify the admissions process, and give those connected to OPWDD an opportunity to earn college credit for their professional and life experiences.
Through SUNY Empire's Prior Learning Assessment strategy, the college will evaluate the accomplishments of OPWDD's eligible participants, regardless of program of study, to turn their hard work into college credit — saving them time and money on their degree. The agreement also eliminates the orientation fee and provides a $100 Better Together Scholarship for all qualifying students.
"This partnership is particularly special because, in many ways, our missions align," said Dr. Nathan Gonyea, officer in charge at SUNY Empire State College. "Both of us are deeply committed to providing access to education and other opportunities to those who might otherwise go without, and we both provide first-class services and supports that help New Yorkers find success in their careers and in their communities."
Gonyea also noted last year's launch of SUNY Empire's Center for Autism Inclusivity, which promotes workforce development for professionals serving individuals with autism; creates autism-inclusive learning environments; and provides the most up-to-date information on autism spectrum disorders. In addition, the college is developing new degree programs, including a Master of Science in Applied Behavior Analysis, that prepare the workforce to address the educational, emotional, and social needs of those with autism.
"SUNY Empire is proud to work hand in hand with OPWDD and to extend our programs, services, and partnership benefits to those affiliated with the organization," Gonyea said.
Theodore Kastner, commissioner of the Office for People with Developmental Disabilities said today's partnership signing is an "exciting new venture" that will enhance the lives of the OPWDD community, its staff, their family members, and the people OPWDD supports. He also said that workforce stability is an important issue as the nation faces high turnover rates and staffing shortages. He said OPWDD has worked for years to support its frontline workers through pay increases, promotional opportunities, training, and education.
"Programs like this one being offered by SUNY Empire go a long way to not only helping our workforce achieve their goals, but also encouraging them to dare to dream — dream of making higher education a reality, dream of a better life for themselves and their families," said Commissioner Theodore Kastner, M.D, M.S. "The ability for workers to earn a degree online and receive credit for past experience, especially in these challenging times, opens the door to opportunity for those who want to achieve their goals – even if they are working to support a family or are not physically able to participate in a traditional classroom setting."
About SUNY Empire State College
SUNY Empire State College educates 17,000 students per year in person, online, and through a blend of both, at locations in every region of New York and at eight international sites worldwide. Together with one of SUNY Empire's 700 faculty mentors, each student designs their own individualized pathway to a college degree that accommodates their schedule and awards credit for prior college-level learning. Now in its 50th year, SUNY Empire awards approximately 3,000 degrees annually and 94 percent of graduates stay in New York state. Today, more than 91,000 SUNY Empire alumni are entrepreneurs, veterans, and active members of the military, professional athletes, teachers, medical professionals, and leaders in their field, as well as in their communities. To learn more, visit www.esc.edu and follow the college on social media @SUNYEmpire.
About the Office for People with Developmental Disabilities
The New York State Office for People with Developmental Disabilities (OPWDD) is responsible for coordinating services for New Yorkers with developmental disabilities, including intellectual disabilities, cerebral palsy, Down syndrome, autism spectrum disorders, Prader-Willi syndrome and other neurological impairments. It provides services directly and through a network of approximately 500 nonprofit service providing agencies, with about 80 percent of services provided by the private nonprofits and 20 percent provided by state-run services.