September 30, 2021
SUNY Empire State College Signs Partnership Agreement with Syracuse Educational Opportunity Center
Syracuse EOC Students, Graduates, Employees and their Family Members Gain Access to Degree Savings and Benefits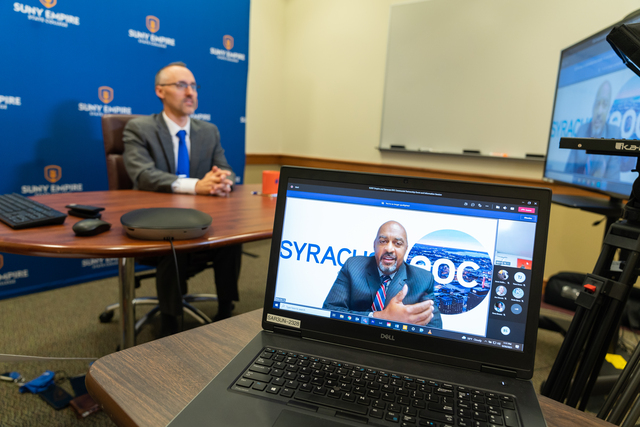 (SARATOGA SPRINGS, NEW YORK – September 30, 2021) SUNY Empire State College and Syracuse Educational Opportunity Center (Syracuse EOC), which delivers comprehensive, community-based academic- and workforce-development programs, recently finalized a partnership agreement offering college degree options to Syracuse EOC students, graduates, employees, and their family members.
The partnership supports SUNY Empire's mission to remove barriers to learning and Syracuse EOC's mission to provide innovative academic programs leading to higher education, and vocational training programs leading to gainful employment and economic self-sufficiency.
This agreement provides access to credit-based opportunities with a flexible, affordable educational model that allows students to continue their education in their community.
The partnership agreement allows Syracuse EOC participants to participate in the college's Corporate and Community Partnership Benefits Program. As part of the agreement, SUNY Empire will waive the orientation fee for incoming students and provide a $100 Better Together scholarship for participants who enroll in a degree-seeking program at SUNY Empire State College.
All programs can be completed entirely online to fit the busy lives of working professionals. Participants will also benefit from SUNY Empire's prior learning assessment, which awards college credit for relevant work and life experience, reducing the overall cost and time needed to complete a degree.
One of the opportunity programs at the forefront of the partnership with Syracuse EOC is the Empire State Opportunity Program, which provides access, academic support, and financial assistance to full- and part-time students from historically disadvantaged backgrounds who show promise for college success — at all stages of life and learning. The college also offers the Empire Promise Program (EPP) and the SUNY Educational Opportunity Program (SEOP).
SUNY Empire Officer in Charge Nathan Gonyea said, "Both Syracuse EOC and SUNY Empire are embodiments of SUNY's mission to provide the broadest possible access to education to both traditional and non-traditional students. This shared mission is what makes our work so meaningful. We are both in the business of helping hardworking individuals change their lives, their families' lives, and their communities for the better through education they might not otherwise be able to access. We are better together, and we are excited to welcome Syracuse EOC to the SUNY Empire community."
Timothy Penix, vice president at Syracuse EOC said, "This agreement with SUNY Empire State College is yet another example of harnessing the power of SUNY and its extensive educational resources for the residents of New York state. A partnership such as this — that connects SUNY Empire with Syracuse Educational Opportunity Center students and the communities we serve — will have a lasting positive impact on the state's economy and the quality of life in our urban communities."
Dana Brown, director of opportunity programs at SUNY Empire State College said, "We are thrilled to partner with Syracuse EOC to expand access to more students across the state. We look forward to becoming another pathway for SEOC students who will benefit from the proactive supports our opportunity programs provide."
Kylie Byrne, director of corporate and community partnerships at SUNY Empire State College said, "We are excited about our partnership with Syracuse EOC. Both SUNY Empire and Syracuse EOC are dedicated to providing access and support to underserved students, and we look forward to continuing this important work together."
Tatiana Parker, 2019 SUNY Empire graduate and 2003 graduate of Syracuse EOC said, "Syracuse EOC and SUNY Empire have given me the tools and ability to move forward at certain junctures of my life. You owe it to yourself to follow that burning desire you have to elevate and grow, and to position yourself to take advantage of the wide range of professional opportunities that will unfold as our world works to reestablish itself."