March 5, 2021
SUNY Empire State College to Host Collection Drives for Community Shelters in Rochester, Saratoga Springs, and Selden in Support of Women's History Month
Contactless Drives Will Benefit Shelters of Saratoga, Wellspring, Lighthouse Mission, and the Center for Youth

Much Needed Donations Include Nonperishables and Personal Care Items for Women, Men, and Children

Date and Time: Wednesday, March 17, from 11 a.m. to 3 p.m.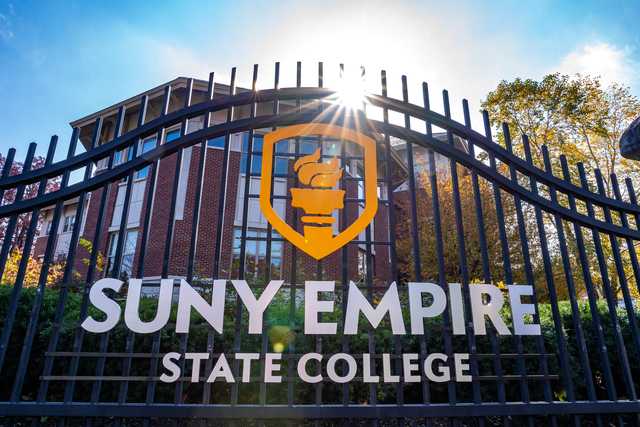 (SARATOGA SPRINGS, NEW YORK – March 5, 2021) SUNY Empire State College, in partnership with community shelters, will hold collection drives at its Rochester, Saratoga Springs, and Selden campus locations on Wednesday, March 17, from 11 a.m. to 3 p.m.
The drives are part of the college's ongoing mission to assist organizations facing increased demand due to the ongoing effects of the pandemic. In addition to issues such as job loss, food insecurity, and inequities in education delivery, domestic violence incidents are on the rise. The New York State COVID-19 Domestic Violence Task Force continues to report a surge for requests for assistance to the state's Domestic and Sexual Violence Hotline, which experienced a 33 percent increase in call volume in 2020 compared to the previous year. Organizations across the state are committed to improving the outcomes for survivors of domestic violence, including children, through critical services. In order to meet the growing demand, nonprofits often rely on continued community support.
SUNY Empire's monthly drives have brought in hundreds of pounds of food, toiletries, and even pet supplies. Donors are asked to simply drive up, and a volunteer — masked and adhering to social distancing guidelines — will collect gifts, while the driver remains in their vehicle. A list of suggested items can be found here. Donations made at the following SUNY Empire locations will assist:
111-113 West Ave., Saratoga Springs
Shelters of Saratoga, which aids people facing homelessness by providing safe shelter, supportive services, and sustainable strategies. Since 1991, Shelters of Saratoga has offered individuals and families basic necessities, positive social interaction, and life skills.
Wellspring, the domestic violence and sexual assault services resource for Saratoga County residents. Wellspring supports survivors by providing emergency shelters, counseling, housing assistance, and confidential case management.
680 Westfall Road, Rochester
The Center for Youth, an LGBTQ+ safe zone that is committed to helping the Rochester youth realize their full potential by creating opportunities, removing barriers, and promoting social justice.
407 College Road, Selden
Lighthouse Mission, a Bellport-based organization committed to feeding those in need, while empowering people to overcome poverty.
"Access to services and basic necessities are essential, and SUNY Empire is proud to do its part to connect with our neighbors and organizations that support the most vulnerable in our communities," said SUNY Empire State College Officer in Charge Nathan Gonyea. "Community-focused organizations like Shelters of Saratoga, Wellspring, the Center for Youth, the Lighthouse Mission, and others are vitally important to providing safety and security for so many. SUNY Empire is committed to educating its students, faculty, and staff on how to be a source of refuge and strength to their fellow neighbors both in their personal lives, and professional endeavors."
SUNY Empire State College offers a degree in community and human services to expand the understanding of the relationship between human needs, values, and social conditions. Students in this area learn to understand and integrate the four foundations of the discipline: knowledge, skills, attitudes and values; and experience, application and practice. Concentrations include criminal justice, disability, health, and substance abuse services.
For more information about SUNY Empire's Community and Human Services program, please click here.
About SUNY Empire State College
SUNY Empire State College educates 16,000 students per year in person, online, and through a blend of both, at locations in every region of New York and at eight international sites worldwide. Together with one of SUNY Empire's 800 faculty mentors, each student designs their own individualized pathway to a college degree that accommodates their schedule and awards credit for prior college-level learning. SUNY Empire awards more than 3,000 degrees annually and 94 percent of graduates stay in New York state. Today, more than 91,000 SUNY Empire alumni are entrepreneurs, veterans, and active members of the military, professional athletes, teachers, medical professionals, and leaders in their field, as well as in their communities. To learn more, visit www.esc.edu and follow the college on social media @SUNYEmpire.