May 4, 2022
AVIATION HIGH SCHOOL AND SUNY EMPIRE STATE COLLEGE SIGNS PARTNERSHIP AGREEMENT
Partnership paves the way for Aviation High School graduates to earn a degree through SUNY Empire State College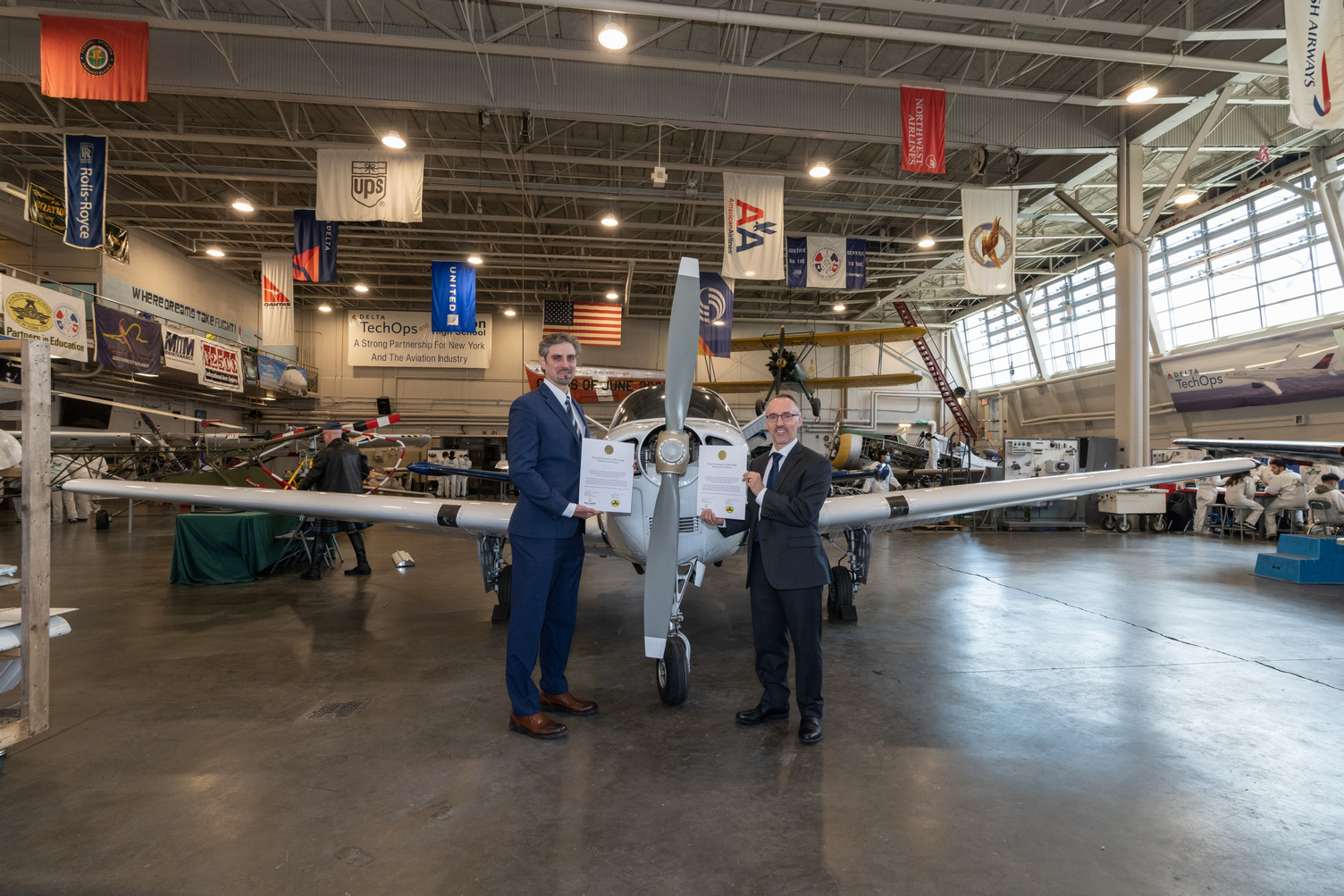 (LONG ISLAND CITY, NY– May 3, 2022)
SUNY Empire State College signed a partnership agreement with Aviation High School, a uniquely specialized, co-educational high school that prepares students for careers in aviation maintenance and the aerospace industry, located in Long Island City.
This partnership provides benefits for participating Aviation High School students, including a one-time $100 Better Together partner scholarship and waiver of the $50 orientation fee. In addition, Aviation High School graduates who have completed either the Airframe Certification or the Powerplant Certification for FAA licensure will be awarded up to 29 college credits to put toward their degree at SUNY Empire. Aviation High School employees, retirees, and their immediate family members are also entitled to the scholarship and fee waiver when they choose to earn their degree with SUNY Empire.
The event was held at Aviation High School in Long Island City, NY. SUNY Empire Officer in Charge Nathan Gonyea and Aviation High School Principal Steven R. Jackson formally affirmed the agreement.
SUNY Empire State College Officer in Charge Nathan Gonyea said, "Aviation High School is the first high school that we've partnered with in the country to provide college credit for the learning that happens in the high school. These students worked incredibly hard during the pandemic, which aligns with the skills and values we hold at SUNY Empire State College. These partnerships are what SUNY Empire is all about and what we were founded on."
Aviation High School Principal Steven R. Jackson said, "We are signing this wonderful agreement with SUNY Empire State College that was brought together through a variety of our partners and supporters of Aviation High School. We are proud to be one of the first high schools to have this great opportunity to award college credit to our hardworking students. We're honored to be working together."
SUNY Empire State College Harry Van Arsdale Jr. School of Labor Studies Dean Maria Figueroa said, "We're so honored to launch this partnership with Aviation High School and eager for SUNY Empire to provide Aviation High School students with the opportunities to advance professionally. We're looking forward to students attending SUNY Empire to pursue their educational endeavors online or face-to-face."
SUNY Empire State College alumnus '96, former member of the Empire State College and Foundation Board of Directors and President of the Alliance for Retired Americans Robert Roach said, "This partnership offers one year of college education that students can earn while at Aviation High School that will be transferred to SUNY Empire, which can alleviate the financial burden that some of our communities' face. Aviation High School students are the pioneers for this great partnership, and we hope to develop other programs similar to this agreement at other high schools."
SUNY Empire State College alumna '18, '19 and General Secretary and Treasurer of the International Association of Machinists and Aerospace Worker Dora Cervantes said, "This is such an amazing partnership because students are coming in with so much college credit which makes it more doable for them to continue their education and pursue their desired career path. As the first partnership of its kind, SUNY Empire worked hard to make this encouraging opportunity happen for Aviation High School students."