August 22, 2022
GOVERNOR HOCHUL ANNOUNCES EXPANSION OF TUITION ASSISTANCE PROGRAM TO PART-TIME STUDENTS
Part-Time Students Taking Six or More Credits Per Semester Can Receive Tuition Assistance Program Aid Starting This Fall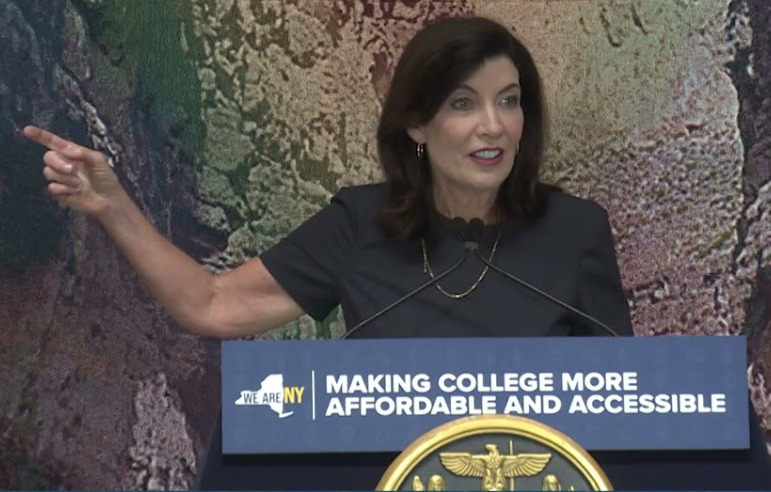 (ALBANY, NY – August 19, 2022) Yesterday, Governor Kathy Hochul announced the launch of a $150 million expansion of New York state's Tuition Assistance Program (TAP), which will now provide funding to students pursuing their college degree part-time. Expanding part-time TAP is part of a broader push by the governor to invest in public higher education and improve access and affordability for every student.
In 2020-2021, part-time learners comprised 63.5% of SUNY Empire's undergraduate student population. The TAP expansion provides an additional financial aid option to help alleviate the financial burden for SUNY Empire's diverse student population, many of whom balance college, work, families, and other responsibilities. The TAP expansion applies to part-time students enrolled in six or more credit hours.
Part-time students also may be eligible for Aid for Part Time Study (APTS), which provides funding to students enrolled in 3-11 credit hours.
SUNY Empire students enrolling for the Fall 2022 semester can apply for TAP by filling out the federal FAFSA application. TAP awards for students who have already submitted a FAFSA for the 2022-2023 academic year will automatically be adjusted based on number of enrolled credits.
New York State Governor Kathy Hochul said, "As governor, I want to do more than just care for this state today—I want to prepare New York for tomorrow. Higher education students not only hold the key for our state, but for their families. A degree changes more than just the life of its holder, it changes the lives of those all around them. Every person who calls New York home should have the opportunity to better themselves and invest in their education."
SUNY Empire State President Lisa Vollendorf said, "Since our founding more than 50 years ago, SUNY Empire has been committed to increasing access to higher education by removing barriers to student success. Governor Hochul's expansion of New York's Tuition Assistance Program to include part-time learners helps us further those efforts in service to our diverse and unique student population, the vast majority of whom are earning their degree part time as they juggle personal and professional demands and responsibilities."
###
SUNY Empire State proudly serves 16,000 students through online, hybrid, and in-person instruction across New York state, the region, and the world. Established in 1971 as the innovative branch of the State University of New York, SUNY Empire is a recognized national leader in serving working adults—including parents, veterans, and military-affiliates—through flexible programs that meet workforce needs and provide support through mentoring and prior learning assessment. The institution offers a broad range of associate, bachelor's, master's, doctoral, and certificate programs and is accredited by the Middle States Commission on Higher Education. SUNY Empire's 94,000 alumni are entrepreneurs, nurses, teachers, businesspeople, and leaders in their communities and their fields. Visit www.esc.edu and follow us on social media @SUNYEmpire