December 20, 2022
SUNY Empire Announces 2023 Bluebird Award Winners
Four SUNY Empire Students Receive Bluebird Award for Volunteerism, Community Building, and Leadership Winners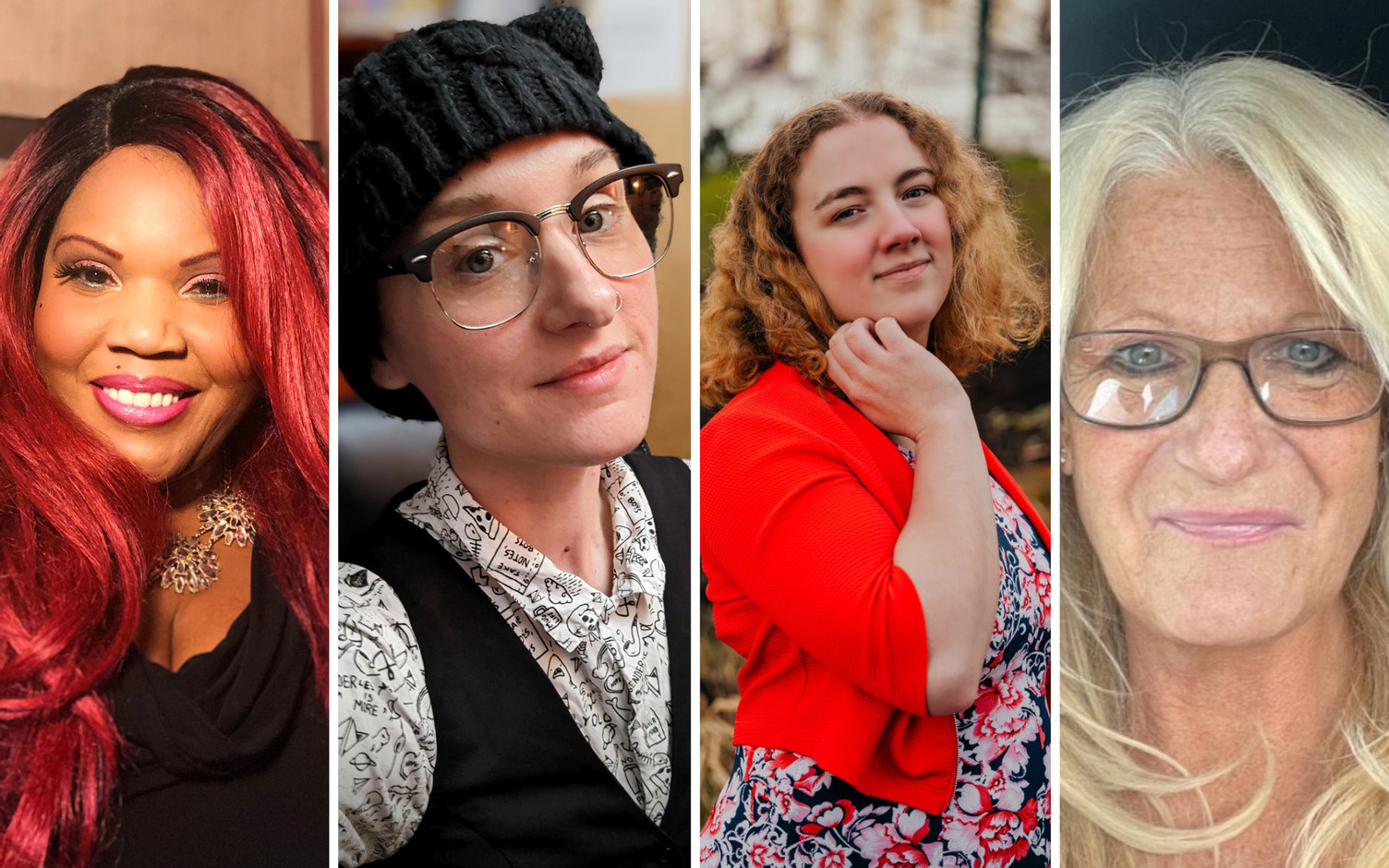 SUNY Empire State Student Government Association (SGA) has selected four winners of the Bluebird Award for Volunteerism, Community Building, and Leadership. The award recipients are SUNY Empire students Serrina Goodman, Em Vaianella, Sarah Reiter, and Karen Ferrari.
Full- or part-time undergraduate or graduate students are nominated based on their outstanding volunteerism, community building, or leadership. The winner of the Bluebird Award is announced at the end of each fall and spring semester. Students are formally recognized in person at the Spring Student Conference and will be announced during the respective commencement ceremony.
Serrina Goodman of Brooklyn, NY, undergraduate student in community and human services
Serrina Goodman is the senior director of a community-based organization serving as a bridge to economic opportunity for youth, individuals, and families. Recognized as a valued contributor to the workforce industry, Goodman builds community enlightenment and resource availability. She has provided services to the homeless population, out-of-school youth, gang-affiliated, and justice-involved youth and adults as well as Liberian refugees with a need to get acclimated to the American workforce. During the pandemic, she hosted and curated the "Lunch Time Lift," a 52-week resource and informative webinar. Goodman is also a SHARE Cancer program Ambassador, providing cancer awareness and resources to marginalized communities. Lastly, she successfully developed and facilitated a uniquely customized 100% virtual gun violence prevention program servicing youth ages 18 to 24 residing in high gun violence-impacted communities. This uniquely designed program provides gun violence awareness, and job readiness coupled with direct employment opportunities.
Em Vaianella of Miller Place, NY, undergraduate student in the School of Social and Behavioral Sciences.
A nonbinary SUNY Empire student, Em designed a social science degree with a concentration in human rights advocacy, shaped by their struggle with identity and subsequent medicalization by the psychiatric system. They were recently accepted into the PRODiG Scholar program and served on SUNY Empire's LGBTQIA+ community task group, Student Conduct Board, Student Senate, Active Minds, and Student Needs Committee. Em is passionate about promoting justice, safety, and equity in the school and beyond. They promote these values by participating in these various committees and organizations, as well as by presenting at two 2022 Reason and Respect events about mental health and intersectionality amongst LGBTQIA+ folks, and during the Spring Student Conference.
Em is also interested in promoting equity through their research, which currently focuses on interrogating the use of psychiatric institutionalization in favor or more supportive and anti-oppressive means of healing. Professionally, Em is a full-time program coordinator at a peer-run mental health agency, where they provide training and educational opportunities to new and aspiring peer specialists in New York. In this role, Em also imagined and developed the Creative Connections Campaign, aimed at destigmatizing psychiatric labels and connecting with our community in institutions through art and letters. This campaign has, for two years, delivered letters to every single person held at Pilgrim Psychiatric Center once per month, amounting to 275 letters each month. This campaign has expanded to offer community service hours to high school students as well as people impacted by incarceration on Long Island. Em also serves as the Chair of the Bi-County Empowerment Conference, an event by and for people who have experience with mental health challenges. They hope to continue expanding their social justice work and embraces their role as a queer activist.
Sarah Reiter of Hamburg, NY, undergraduate student in public affairs
Sarah is a volunteer firefighter and an EMS provider with her Volunteer Fire Company. She has been volunteering in her agency for the past two years and has achieved interior firefighter status and NYS Advanced EMT status. Sarah is also currently serving as an EMS Lieutenant in her department and a fire engine lieutenant. Sarah is pursuing a degree in public affairs with a focus on emergency management. In order to help those in the communities around her, she works as a public safety dispatcher and has taken a position as a 911 call taker. Sarah also works seasonally as an emergency manager at the Erie County Fairgrounds. Sarah has dedicated her life to helping others and on average responds to 300 calls with her company a year while still being a full-time student and holding a full-time job.
She has set an example within her volunteer agency by transporting more than 65 patients to the hospital and doing everything to prevent individuals from having to pay for their pre-hospital medical care. Sarah has led trainings within her fire department's EMS squad to better the care the agency provides to her community. Sarah continues to strive to find ways to aid her community and keep it safe.
Karen Ferrari of Rochester, NY, graduate student in the Master of Business Adminstration (MBA) program
Karen Ferrari is an advocate for mental health, sobriety, and recovery. As a SUNY Empire graduate student, she works every day on sobriety by helping others through service work and carrying the message of recovery all ways. Ferrari sponsors other women and makes herself available 24/7 when needed by alcoholics or addicts. She also creates TikTok videos to reach younger populations with addiction problems to provide advice and resources.
She volunteered at Recovery All Ways, a nonprofit organization that meets people on their path to recovery, making sandwiches, clothing people, and supporting others to recovery. Ferrari also organized two sober camping events on the 4th of July and Labor Day, by shopping, prepping, and cooking for the weekend trips.
For the past 28 years, she has participated in her church's parish council, supplying sample-size products, soap, shampoo, razors, and toothbrushes to the homeless. She also raises money through fundraising events to donate to children of the Dominican Republic and has been involved in Beyond The Beach Children's Foundation, a nonprofit corporation located in Canada.