May 4, 2022
SUNY EMPIRE STATE COLLEGE HOSTS RIBBON CUTTING EVENT AT NEW MANHATTAN LOCATION
SUNY Empire celebrates the opening of its new location at 4 Park Avenue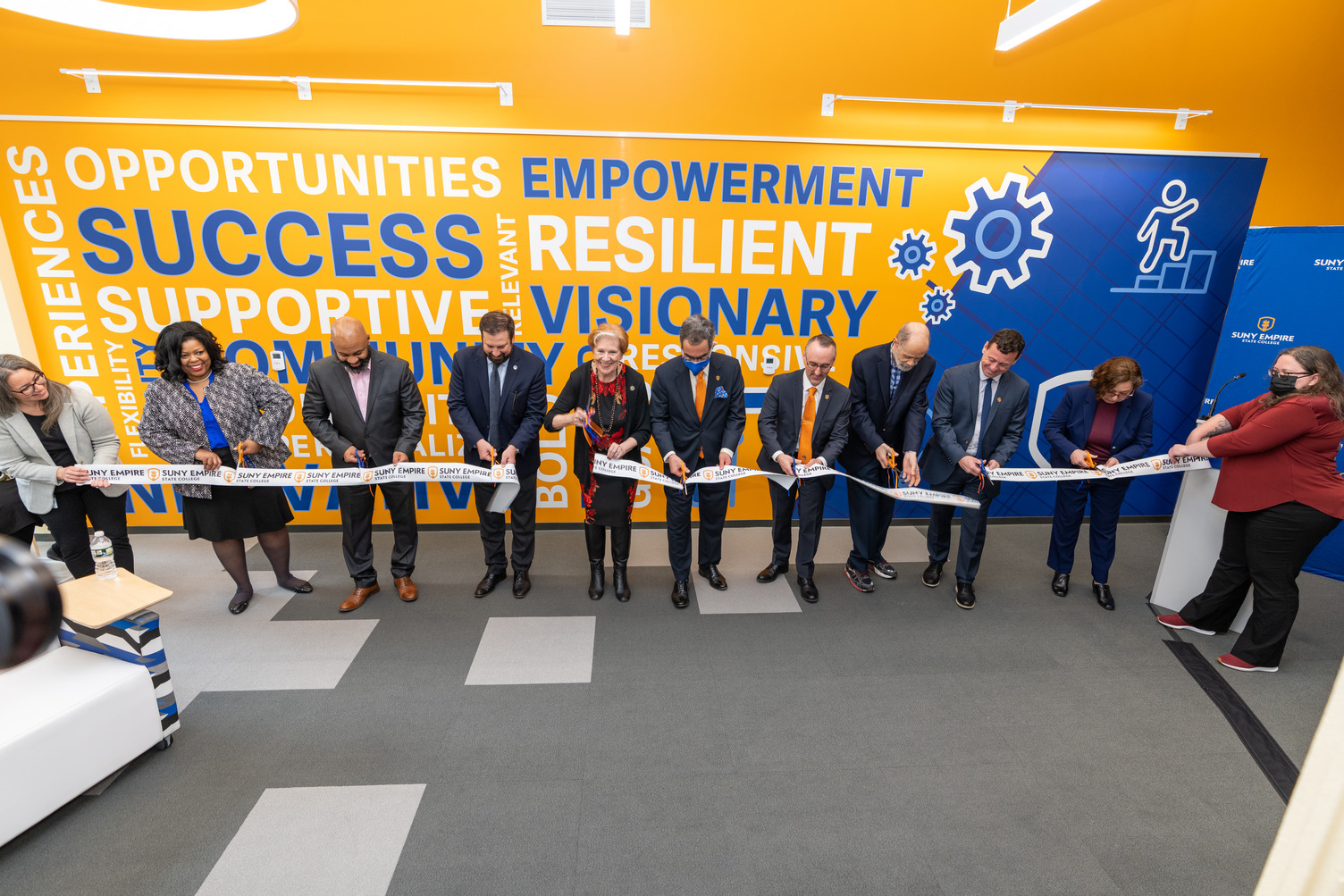 (NEW YORK, NY– May 3, 2022)
SUNY Empire State College hosted a ribbon-cutting event to celebrate the opening of the college's new location at 4 Park Ave. in Manhattan.
SUNY Empire moved its Manhattan campus from 325 Hudson St. to the state-of-the-art 29,747-square-foot space situated between 33rd and 34th streets on Park Avenue, just blocks from Madison Square Garden, Times Square and Broadway. The college occupies the second floor and mezzanine levels of the site, accommodating 49 SUNY Empire faculty and staff, 13 classrooms, computer labs and student spaces.
Students and faculty have a dedicated entrance on Park Avenue. The site is easily accessed using the subway's 6 line, and conveniently located near Penn Station, Grand Central Station, and the Path Station serving 34th Street. Exterior signage will showcase SUNY Empire's presence in the bustling Murray Hill neighborhood, which features restaurants, hotels, shopping, and the NYU Langone Medical Center.
SUNY Empire's location in midtown is a testament to the enduring value of a hybrid, in-person, and online learning experience in today's modern world.
SUNY Empire Officer in Charge Nathan Gonyea said, "Our 4 Park Avenue location embodies innovation, accessibility, and world-class academic opportunities. This space reflects how we are able to sustain our values and enhance our mission moving into our second 50 years as an institution."
Local Union 3 IBEW Assistant Business Manager for the Manufacturing Christopher Erikson Jr. said, "All the work that takes place in the classrooms at 4 Park Ave. will direct students toward advancing the labor movement and becoming leaders themselves, to make New York City, country, and world better for working people. We look forward eagerly to the continuation of the strong relationship with SUNY Empire and we're confident that the future of the labor movement in New York City is strong because of the work that will take place at this location."
SUNY Empire College Council Chair and New York State Public Service Commissioner John Maggiore said, "This location is a state-of-the-art space designed with the students in mind. As individual students better themselves though their interactions with SUNY Empire, New York state becomes a better place to work, live, serve, and run a business. This space helps affirm that SUNY Empire is fulfilling its public mission and its social contract."
SUNY Empire College Council Member and Labor Commissioner Roberta Reardon said, "Being here for this ribbon cutting at 4 Park Avenue is really exciting. This location is phenomenal because of its easy access, which is critical for students looking to receive a quality education and advance their careers. That's what SUNY Empire is all about."