May 26, 2022
SUNY Empire State College to Open New Location on SUNY Broome's Campus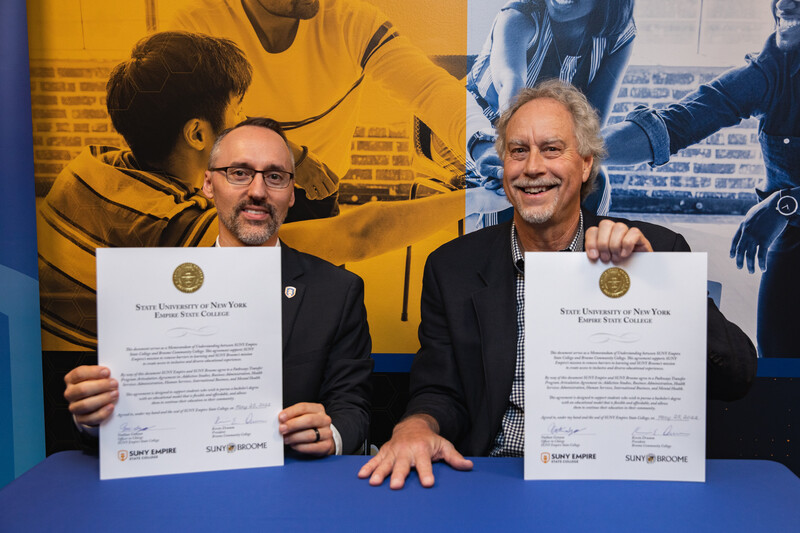 (BINGHAMTON, NEW YORK – May 26, 2022) SUNY Empire State College joined SUNY Broome for a ribbon cutting celebration of SUNY Empire's new space on SUNY Broome's campus. The event also commemorated the current transfer agreements that enables SUNY Broome students with an associate degree in select programs to seamlessly transfer into a bachelor's degree program at SUNY Empire.  
This partnership provides access to credit-based opportunities with a flexible, affordable educational model that allows students to continue their education in their community. SUNY Broome students are able to transfer up to 79 credits to SUNY Empire State College. As part of the agreement, SUNY Empire will waive the orientation fee for incoming students and provide a $100 Better Together scholarship for participants who enroll in a degree-seeking program at SUNY Empire State College. 
All programs can be completed entirely online to fit the busy lives of working professionals. Participants will also benefit from SUNY Empire's prior learning assessment, which awards college credit for relevant work and life experience, reducing the overall cost and time needed to complete a degree. 
SUNY Empire State College Officer in Charge Nathan Gonyea, Ph.D., said, "We are thrilled to work with SUNY Broome to provide an affordable, world-class education to students who successfully complete their associate degree. This dedicated office space on SUNY Broome's campus will help serve and guide students who want to build upon their education. The partnership between our two institutions opens the door for innovative, accessible, and flexible academic opportunities to SUNY Broome students."
SUNY Empire Dean of the School of Human Services Desalyn DeSouza, Ph.D., said, "I am happy to celebrate this new space and the numerous pathway programs between our two institutions. It's exciting to be a part of building an infrastructure in support of our workforce and communities in New York state."
SUNY Broome's President Kevin Drumm, Ph.D., said, "Thanks to SUNY Empire's progressive vision and willingness to engage in collaborative efforts with us on our campus. We are so excited that our students will be able to follow concrete transfer paths to SUNY Empire which offers highly affordable paths to a bachelor's degree. This partnership takes the extra step of having SUNY Empire right on campus with their newly designated space for ease of student access."