April 12, 2022
SUNY Empire to Participate in National Effort to Enhance Equity in Higher Ed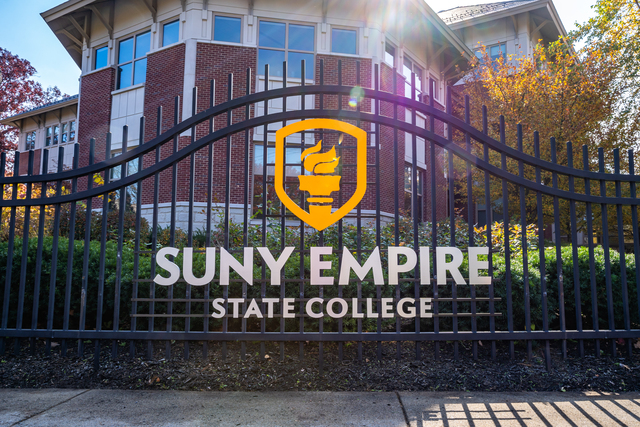 SUNY Empire has been awarded a strategic finance grant with the National Association of College and University Business Officers (NACUBO). Assistant Vice President for Administration and Chief Financial Officer Lexie Bonitatibus, who is also SUNY Empire's interim chief operations officer, applied for the three-year grant with NACUBO and successfully secured the funding. She will serve as the chief business officer on this strategic finance grant project.
SUNY Empire is among 26 institutions from around the country chosen to work on developing strategic financial practices that prioritize and sustain student equity, success, and completion initiatives. The $30,000 plus travel expenses award provides a $10,000 annual stipend to the college for each of the next three years, along with a $1,500 annual travel allowance. The travel funds will enable Bonitatibus to attend a yearly gathering of the chief business officers from the 26 schools, along with the sponsors of the grant, including NACUBO. The primary funder of this initiative is Ascendium Educational Foundation, with additional support from the College Futures Foundation and Trellis Foundation.
"The goals of NACUBO in this grant align directly with SUNY Empire's commitment to equity in higher education," Bonitatibus said. "Our participation gives us the opportunity to engage with a national network of colleges that are focused on increasing equitable student outcomes and improving access to higher ed. Working together, we'll pool our knowledge, experience, and resources around improvement projects to create models, frameworks, and processes that can be used and customized across equity initiatives."
SUNY Empire State College Officer in Charge Nathan Gonyea said, "We are thrilled to receive this grant in furtherance not only of our college's mission, but also a broader, collaborative effort to make a college education accessible to more students. The partnership and resulting improved practices will be shared across the higher-education sector, so change can be made here at home and on a larger scale."
The desired result is improving student outcomes for Pell-eligible students across New York state. Bonitatibus has assembled a team from the college, who will join her in this effort. A list of names is below, and bios are available for viewing:
Lexie Bonitatibus - Chief Business Officer (on the grant)
Leigh Yannuzzi - Chief of Staff
Eileen McDonnell - Executive Director of Institutional Effectiveness & Planning
Emily Behnke - Director of Sponsored Programs
Pam Enser - College Registrar
Michelle Campbell - Director of Financial Aid
Joe King - Director of Institutional Effectiveness
Sadie Ross - Director of Compliance and Strategic Initiatives
Jim Stoner - Data Analytics Finance
Among the benefits of participating in NACUBO:
Three years of NACUBO expertise and support to refine and improve strategic financial planning activities

.

Structured, facilitated processes to

help the

c

ollege

contextualize how strategic finance practices directly and positively impact equitable student outcomes

.

Three years of collaborative work and thought partnership with peers at colleges and universities

who

fac

e

similar challenges

.

O

pportunities to fully leverage

pathway

practices

or increase enrollment and degree completion for transfer students.
Access to financial and data analytics models that ensure financial sustainability of programs that improve equitable student outcomes

.
Learn more about the NACUBO project.