Welcome to the School of Nursing
Congratulations on your thoughtful decision to advance your personal and professional development and welcome to the School of Nursing.
Founded in 1971, Empire State College is the premier onsite and online education provider in the State University of New York system. The mission of the nursing programs complements the mission of the college. The college's faculty recognizes the impact of nursing on the health of individuals and their families and the growing demands of a complex health care system. A compassionate, educated and talented group of individuals, the faculty are committed to developing and strengthening your professional nursing knowledge and skills.
Our nursing programs are designed to sharpen your critical-thinking skills, stimulate scientific inquiry and develop evidence-based practices, keeping in mind the true art of nursing, which is caring. Our innovative Web-based courses offer you high-quality, flexible learning opportunities that support your individual choices for lifelong learning as well as prepare you for new roles in practice, research, administration and education.
I am confident you will share our optimism for the future of professional nursing and the positive impact that nursing has on the health of individuals and societies.
The RN to BSN, MS in Nursing Education, and MS in Nursing Administration programs at Empire State College are accredited by the Commission on Collegiate Nursing Education (CCNE).
Sigma Theta Tau International Honor Society of Nursing®
The mission of STTI is to advance world health and celebrate nursing excellence in scholarship, leadership and service.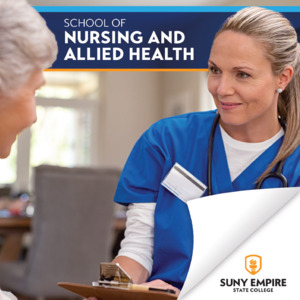 Questions?
We're here to help.
SUNY Empire's School of Nursing and Allied Health is ready to assist you with planning your degree program and keeping you on track.
800-847-3000