Mission and Goals
Mission
The mission of the SUNY Empire State College School of Nursing is congruent with the college's mission in creating learning environments that promote critical thinking, social responsibility and lifelong learning.
The School of Nursing prepares nurses as leaders and full partners on interdisciplinary teams in complex health care environments within a global community.
Goals
The goals of the School of Nursing are to:
provide seamless academic progression
promote collaborative and dynamic learning environments through both mentoring relationships and the use of technology
promote professional values, including lifelong learning and professional-role development allowing students to reach their full potential
provide accessible, affordable and flexible programs of study to meet the academic needs of the adult learner.
The RN to BSN, MS in Nursing Education, and MS in Nursing Administration programs at Empire State College are accredited by the Commission on Collegiate Nursing Education (CCNE).
Sigma Theta Tau International Honor Society of Nursing®
The mission of STTI is to advance world health and celebrate nursing excellence in scholarship, leadership and service.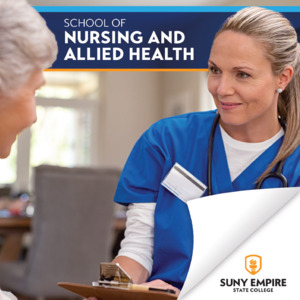 Questions?
We're here to help.
SUNY Empire's School of Nursing and Allied Health is ready to assist you with planning your degree program and keeping you on track.
800-847-3000