RN to BSN Course Descriptions
Not all courses are offered every term. Current term offerings are listed in the Course Catalog.
Liberal arts and general education courses may be taken online or onsite at locations across New York state.
Courses are 4 credits unless listed otherwise.
Click on the title to view the course description.
Nursing Electives
The RN to BSN, MS in Nursing Education, and MS in Nursing Administration programs at Empire State College are accredited by the Commission on Collegiate Nursing Education (CCNE).
Sigma Theta Tau International Honor Society of Nursing®
The mission of STTI is to advance world health and celebrate nursing excellence in scholarship, leadership and service.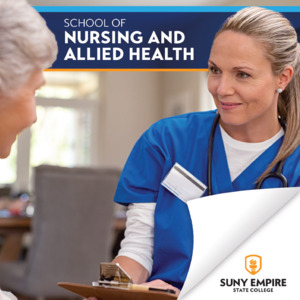 Questions?
We're here to help.
SUNY Empire's School of Nursing and Allied Health is ready to assist you with planning your degree program and keeping you on track.
800-847-3000