RN to Bachelor of Science in Nursing
If you are a registered nurse (RN) and looking for the opportunity to assume more leadership in the delivery of patient care, public health, research or policymaking, the RN to Bachelor of Science in Nursing (BSN) degree program at SUNY Empire State College is a good choice for you.
At Empire State College's School of Nursing, you can:
enroll part time
take nursing courses online
take general education courses online or face-to-face at one of the college's New York state locations.
The unique mission of the RN to BSN program is to advance the education of registered nurses so they can provide evidence-based, comprehensive nursing care to diverse patient populations.
Why an RN to BSN degree?
Nurses are in demand in the contemporary health care workforce.
The RN to BSN will prepare you to:
promote and deliver community health and quality patient care
assume leadership roles in numerous health care settings
pursue advanced degrees
establish a caring and nurturing environment respectful of human needs and diversity.
As a BSN student, you will:
develop skills in professional nursing, communication, critical thinking and leadership
study advanced nursing subjects such as nursing theory and research
have a supervised practice experience in a community health and leadership settings
work with a mentor who will guide you from registration to graduation, while you participate in a program designed to meet your needs and goals as a professional nurse.
The 124-credit program includes 41 upper-division nursing credits. See the nursing course information ‌for more details.
The RN to BSN, MS in Nursing Education, and MS in Nursing Administration programs at Empire State College are accredited by the Commission on Collegiate Nursing Education (CCNE).
Sigma Theta Tau International Honor Society of Nursing®
The mission of STTI is to advance world health and celebrate nursing excellence in scholarship, leadership and service.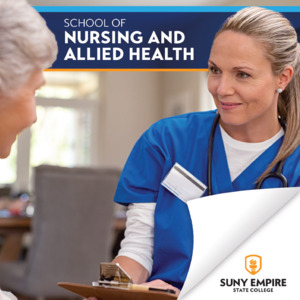 Questions?
We're here to help.
SUNY Empire's School of Nursing and Allied Health is ready to assist you with planning your degree program and keeping you on track.
800-847-3000