Convenient Study Options + Flexible Schedules
Learning is an activity, not a location.
That's why more than 12,000 students have earned their online degree at SUNY Empire.
Courses your way. Online, onsite…or both. Learn from home, one of our locations across New York state, the office, a military base…or wherever you happen to be.
Flexible schedule. Sure, you'll have due dates, but you'll also determine the schedule that gets you from start to finish—before work, after work, weekends…whatever works for you.
Speed/time to degree. We award credit where it's due. That means generous transfer credit options, as well as credit for prior college-level learning gained outside a classroom, saving you time and money.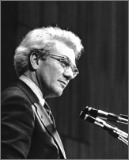 "Education is a seamless web: one level of learning relates to every other."
– Ernest L. Boyer Sr., former chancellor, State University of New York, a driving force in the establishment of SUNY Empire State College in 1971.