June 15, 2020
Derek Jefferson '07, '10, '20
3 College Degrees Earned on Land and by Sea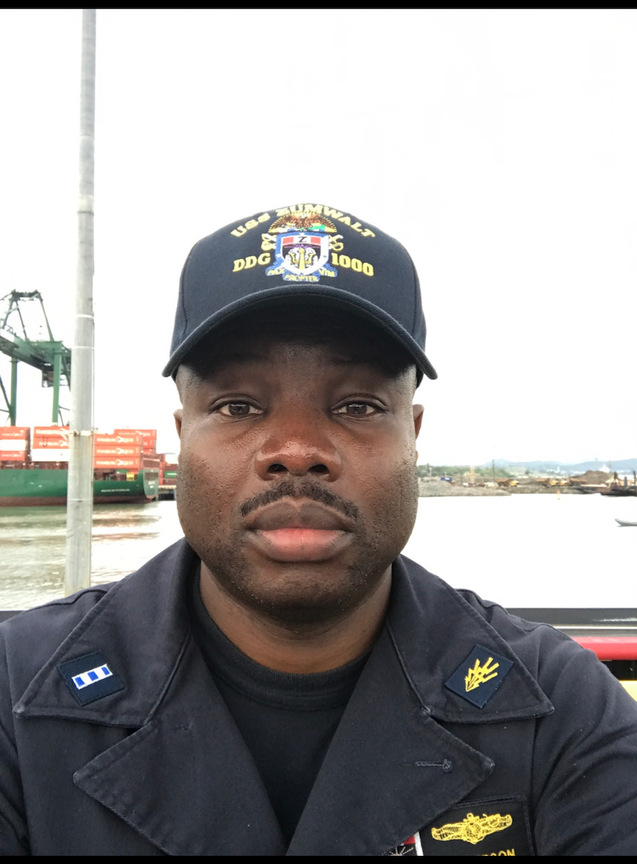 Derek Jefferson grew up traversing the distance between Detroit, Michigan, where his parents lived, and Selma, Alabama, where his grandparents lived. He remembers that as a child, his father, who toiled away at General Motors for 26 years, gave him a piece of advice he never forgot: "Never grow up and work in a factory."
Jefferson says when he was young, unless you worked for one of the Big Three automakers, there was little job opportunity in Detroit. The same went for Selma, Alabama, where the major employers were grocery and fast-food restaurants. He says he didn't have the money to go to college, but he did have an uncle in the Navy, who Jefferson looked up to, who encouraged him to pursue a Navy career. So, at age 17, Jefferson took matters into his own hands and visited his local Navy recruiting office, where he signed up for its delayed entry program.
A Career that is Full Steam Ahead
In 1993, Jefferson turned 18, graduated from high school, and shipped off to boot camp and radioman school at Recruit Training Command in San Diego, California.
That began his 27-year (and counting) Naval career. Over that time, Jefferson quickly advanced through the ranks from an enlisted member to Chief Petty Officer to Chief Warrant Officer FOUR. He's been stationed at 13 Navy commands, including shore installations in Norfolk, VA and Washington, DC and sea command onboard aircraft carriers, a cruiser, and amphibious ship. He's been deployed in the Mediterranean Sea, Red Sea, and Persian Gulf.
He was also appointed to the Joint Task Force Armed Forces Inauguration Committee for President George W. Bush's second term, and was awarded the Bronze Star Medal for meritorious service in a combat zone for his work with SEAL TEAM 10 in Afghanistan. He also holds a Joint Service Commendation Medal, Navy and Marine Corps Commendation Medal (6 awards), Navy and Marine Corps Achievement Medal (5 awards), Military Outstanding Volunteer Service Medal (2 times), and several unit and campaign awards.
Jefferson says it was during his stint as a Navy recruiter early in his career that he realized the Navy was going to be a permanent career choice.
"At that time, in Michigan, the auto workers went on strike. I was in my young 20s, and it really made me understand what it meant to have job security, a benefits package, and a steady income that's guaranteed," Jefferson says. "I made sacrifices being away from my family, but I wouldn't trade my world experiences for anything. The military has been very good to me."
He says a highlight of his career was being assigned to Naval Special Warfare Unit THREE in Bahrain as an information systems technician a month before September 11, 2001. He says it was his first time being in a high-tempo combat area, and it elevated his communication skills "from intermediate to expert in the snap of a finger."
"Deployment before the war on terror, great. Deployment after the war on terror, not great," he says.
Nineteen years later, Jefferson is back in Bahrain, serving as force communications officer at Naval Expeditionary Combat Forces Central. Jefferson supports naval expeditionary forces as an officer technical specialist in information systems, mobile and fixed communications, and satellite communications systems.
An Education that was Online and at Sea
In the middle of his swift and impressive upward career trajectory, Jefferson earned his associate, bachelor's, and master's degree – all from SUNY Empire State College.
"I was shopping which schools to go to, and I didn't know about SUNY Empire, so it wasn't one of my top choices," Jefferson says. "A Navy college counselor told me he went to ESC and started selling me on the college. I told him, throw it in the mix and we'll see what happens."
Jefferson said when colleges came back to him with credit evaluations, SUNY Empire gave him more credit than any of the others.
"Once I enrolled there was no turning back," he says.
He finished up his associate degree in network management. Shortly thereafter, he was one of 10 chief petty officers to be selected to the Navy's advanced education voucher program, which covered 100 percent of his SUNY Empire bachelor's degree in information technology. Then in 2014, Jefferson set his sights on his master's degree.
"In order to get to Chief Warrant Officer FIVE, I knew I needed my master's. I wasn't sure what I wanted to do, so I started talking with my mentor and instructor, Dr. Eileen O'Connor," Jefferson explains. "She gets five stars for helping me put a program together."
The degree, a Master of Arts in learning and emerging technologies, took him six years as he balanced graduate courses with his military duties and took a three-year break while serving as communications officer and electronic material officer onboard the USS ZUMWALT (DDG-1000), a guided missile destroyer, and then serving as officer-in-charge of the Naval Computer and Telecommunication Station (Far East detachment in Chinhae, South Korea). In early 2019, Jefferson resumed online college courses and finished his master's degree in May 2020.
As for what's next, Jefferson says he plans on serving many more years in the U.S. Navy. His next assignment is to the tactical operations center at Naval Air Station Sigonella, in Sicily, Italy, where, he will serve as information systems officer.
"Earning my college degree was a lifelong personal goal. I was surprised that I was able to complete three degrees while serving full time on active-duty military service," Jefferson says. "Even though my commission program doesn't require a college degree, the Navy expects their leaders to improve and grow in their professional development, which includes higher education."