May 18, 2021
Students Use Research Project to Become Change Agents in Their Communities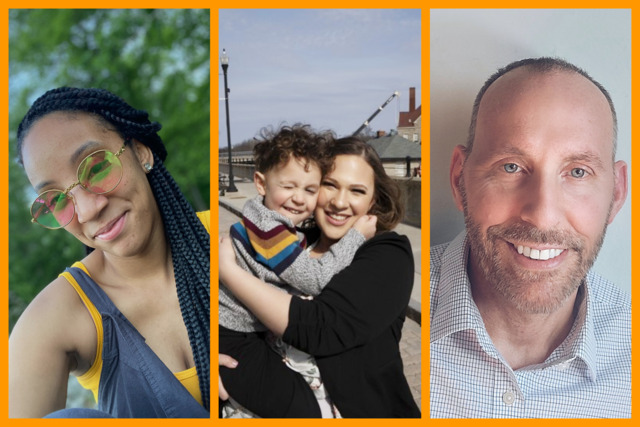 Bethany Patterson wanted to start a nonprofit that would help her community better represent its diversity. Those plans are on hold as she prepares to launch her political campaign.
Joe Golden had dreams of using the arts for activism. He's now planning to pursue a doctorate and become a teacher.
Asia Moore dreamt of launching a nonprofit to teach financial literacy to vulnerable populations. She shifted gears, and her organization is going to teach cultural competency instead.
All three SUNY Empire State College students credit their growth to Dr. Rhianna Rogers and SPEC, the Sustainable Progress and Equality Collective that Rogers co-founded in June 2020, along with Joe Torregiani, a senior software engineer, educator, and philanthropist in San Francisco.
SPEC was formed in response to the challenges brought on by the global pandemic and the protests over social injustice last year. The organization is founded on two pillars: STEAM (science, technology, engineering, arts and mathematics) and DEI (diversity, equity and inclusion) and strives to empower people to become change agents in their communities.
"SPEC's mission is to empower individuals to become globally-minded change agents," says Dr. Rogers, an associate professor of interdisciplinary studies. "Higher education reaches about 30 percent of the population. But if you want to make real change, you have to reach the other 70 percent. Our work at SPEC is attempting to do that through our CITISEN research associate program and community projects."
As research associates for SPEC, Patterson, Golden, and Moore got the mentoring, skills and networking they needed to pursue previously unimagined dreams. And now, they're setting out to make a difference in the world.
From Business to Politics
Bethany Patterson arrived at SUNY Empire in 2015 with an interest in business. By the time she graduated in spring 2020 with a bachelor's in liberal arts, she was ready to co-found a nonprofit called Citizens for Change in her hometown of Lockport.
As the product of a black father and white mother, the 27-year old mother of one was keenly aware that half of her identity was poorly represented. "Twenty percent of Lockport schools are students of color, with only one percent minority teachers, but no Black male teachers, and that was troublesome," Patterson says. "There are also no black police officers."
For her SPEC research project, Patterson wanted to learn graphic design in order to promote panels on race that she was working on last summer. As part of her work, she began learning to use new platforms like Toggl and Trello, and polishing her time management skills. She also became more adept at multitasking.
Being pushed out of her comfort zone helped build Patterson's confidence, which grew even more when she began speaking up more on Zoom calls during her 2020 internships for both SPEC and the Rockefeller Institute of Government, and this year as a contact tracer for the state Department of Health.
Patterson has now postponed her nonprofit to focus on running for office this November. As an alderwoman in Lockport, she thinks she'll be better positioned to correct the racial inequities in her city's schools and police force.
"One thing I've learned is you're never going to grow if you don't put yourself out of your comfort zone," she says. "I've learned that I don't have to have all my eggs in one basket."
Artist Turned Writer
Joe Golden was a textile artist and longtime HIV/AIDS activist in New York City when disabilities caused by longstanding HIV infection forced him to retire early. Uncertain of next steps, he decided to go back to something he loved: college.
"I came to SUNY Empire State College out of a love of learning," says Golden, 60, who recently got a master's degree in adult learning. "It was kind of scary for me to start the program. I never wrote an academic paper before. And as an older learner, I wasn't here for job opportunities that a masters could give me. It was really about what I would learn and the growth opportunities."
When Dr. Rogers invited him to join SPEC as a research associate, he set his sights on researching how the arts can serve as a vehicle for his activism. He also liked the focus on community building that SPEC encouraged.
Once involved, Golden discovered he had a knack for writing. He swapped his role as the art editor of Dr. Rogers' new publication called the Journal of Engaged Research to become an associate editor.
Now he wants to pursue his Ph.D. and eventually teach, a path that never occurred to him before. He also wants to use his newfound writing skills to spread the word about the ongoing challenges of HIV. "Some people are still suffering from HIV," he says. "As a long-term survivor, I feel I have a responsibility to share that."
Teaching Cultural Competency to Kids
As a trauma informed instructor for a non-profit, Asia Moore was always passionate about youth advocacy. Now in the second year of her master's program in social and public policy and certification in children and family advocacy, Moore says her goal has always been to help vulnerable populations, and address racial and socioeconomic disparities.
Moore joined SPEC after participating in a book club on SUNY Empire Connects, which led to a town hall on race and diversity after the death of George Floyd. There she met Dr. Rogers, who invited Moore to join SPEC.
As a research associate for SPEC, she came in with the idea of creating a financial literacy program to help educate vulnerable populations. Moore began learning professional skills like how to take notes at meetings, prepare for a presentation and stay organized.
Through SPEC, she says, Dr. Rogers enabled her to maximize her potential. "I came in thinking I'm only able to do one thing, and she gives me the opportunity to be exposed to different things, so that I can think outside the box," says Moore, 30, a mother of two who lives in Middletown, N.Y.
Over time, she realized her passion lay in addressing issues of race. Now she wants to create a nonprofit that teaches cultural competency to children. "Everyone knows that racism exists," she says. "This is about helping to cope and deal with it, and to embrace our differences."
This summer, Moore is taking a break from her studies to focus on doing more research for her nonprofit and drafting a business plan. "I need to be able to explain who I am and why I'm doing this," she says. "I have to really sell myself."
For more on SPEC, visit: https://www.specollective.org/our-work.