Melissa Clark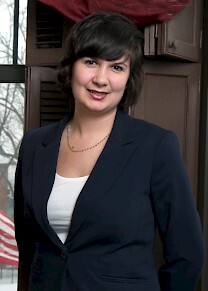 When you work for a nonprofit, every penny counts – both the ones you manage for the organization and the ones you count on in your own daily life. So when Melissa Clark, a student in the Social and Public Policy Master's program, received notice that she was the recipient of the Drs. James Aloysius Gibson and Patricia Brozinsky Scholarship, she was, she recalls, "surprised, honored and grateful, because it took care of tuition for a course and made my life easier and better as I advance in my program, one course at a time."
The Poughkeepsie resident, 25, who received her undergraduate degree from SUNY New Paltz, manages multiple programs for her region's United Way. She oversees some of the organization's budgets, volunteers, grants, programs and services. She also sits on a number of community boards that work on behalf of youth services, because so much of what United Way does is collaborative and she wants to have input into those coalitions.
"I've been doing non-profit work for several years, but I understand that for my career to progress, an advanced degree will be necessary. I looked into a number of programs, but Empire State College was the most convenient, affordable and flexible. It was the one I could attend on my own terms, because I have a lot of night meetings," said Melissa. "I take one class at a time and I am moving forward – about three-quarters done now. It helps that my husband is so supportive."
Melissa's energy has been invested in numerous community service efforts, including after-school programs for youth living in poverty, when she previously worked with AmeriCorps VISTA through the Corporation for National and Community Service. Her more recent role at United Way includes fundraising for food and shelter for those who need it, and educating people about how to apply for grants -- just a few achievements among Melissa's many contributions to her community.
One point of excitement for Melissa is that much of what she learns in her courses can be applied immediately in the workplace, underlining the importance and currency of her ongoing studies.
Does she get burned out sometimes? She admits she does, but refuels at the gym, through reading and has resolved to spend more time meditating, "for mind and body health."
The Gibson and Brozinsky Scholarship is awarded to graduate students in the Social and Public Policy program. It was created by Dr. Patricia Brozinsky to honor the work of her late husband Dr. James Gibson, a psychotherapist and professor at SUNY Stony Brook. Dr. Gibson's legacy of concern for others is carried on via students who aspire to influence their communities through positive, thoughtful and caring human connections, just as he did.
Melissa is a wonderful reflection of Dr. Gibson's spirit. "I can't change the world," she accepts, "but I feel like we accomplish something and we do see progress, even in little changes."
Questions?
We are always happy to hear from alumni, students and other friends of the college.
For general inquiries, dial extension 2248.
Our fax number is (518) 580-0700.
800-847-3000