Elaine Patrice Perkins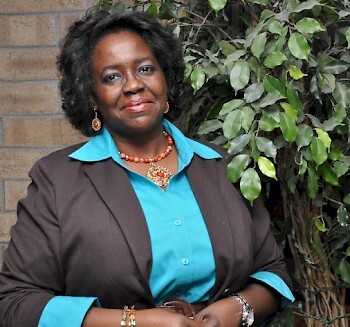 Elaine Patrice Perkins is a shining example of a life transformed. If there are people who doubt how financial aid impacts today's college students, Patrice, a work-study student at the college's Northeast Center and past recipient of an Empire State College Foundation Scholarship, isn't among them. She calls the passion of the college's faculty and staff and their enthusiasm for the educational endeavor "life-changing and contagious."
An "Army brat," who lived all over the world, Patrice came back to her New York roots when her father was stationed in the Albany area her senior year in high school.
"The students had all grown up together, and I didn't fit in. Having travelled most of my life, I was accustomed to variety and a level of excitement that was missing," she explains. "I was almost at a point of dropping out. In an attempt to get me to finish, the administrators offered to send me to college early."
Patrice enrolled in community college her last year of high school. But she didn't stay. "At 18, I just wasn't ready for the college experience," she says. While Patrice has had fulfilling careers in marketing, legal administration, government and broadcast journalism, without a college degree, she was locked out of certain jobs she felt otherwise qualified for. A tragic, two-year period followed, where she saw her marriage end and she lost her best friend and guiding star - her mother Peggy. With a new beginning needed, it seemed the perfect time to enroll in Empire State College. When she received a scholarship and was hired as a work-study student, the door to a new life was opened to her.
With her mentor, Bob Congemi, Patrice created a Bachelor's degree program, Expressive Arts for Growth and Change, using the visual arts, writing, performance and music, "to help people explore their inner landscape and come to a place of wholeness." She especially wants to work with women who have experienced life transitions, such as divorce, domestic violence and loss of a child.
"In 1 1/2 years, my life is transformed," she says. "My career plan is already impacting my family, friends and co-workers, and I have developed a strong volunteer leadership role in my community."
Patrice likens her mother's influence to the multistage rocket booster that propels a payload into space. At a certain point the booster drops off, having provided sufficient energy for the payload to accomplish its mission. "Empire State College is very similar," she says. "I know when I graduate and that booster drops off, I will be equipped to do that for others. I've found that through education, you absolutely can create the life of your dreams, and I want to help others do the same. I want to open doors for them, so that their lives can change for the better."
She vowed to do just that by creating a new scholarship in honor of her mother. She has since established the Margaret C. "Peggy" Perkins Memorial Scholarship, awarded to a student who honors Peggy's legacy. The Peggy Perkins Scholarship is awarded to a female student who is studying literature or the arts, and who postponed her educational pursuits in favor of raising a family.
Questions?
We are always happy to hear from alumni, students and other friends of the college.
For general inquiries, dial extension 2248.
Our fax number is (518) 580-0700.
800-847-3000