Franz Washington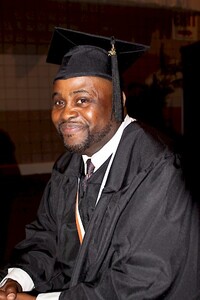 Franz Washington was a recipient of the Robert and Carol Johnson Scholarship in his final year of undergraduate study. He was nominated by his center to be a speaker at the Genesee Valley Center graduation ceremony. Active in a number of college activities, Franz received his degree in Human Services with a concentration in Substance Abuse Counseling, and has since enrolled in the graduate program.
A single father with custody of his young son, Franz's story is at once unique and familiar. After overcoming his own personal struggles, he has embraced the challenges of a renewed life. Franz's gratitude for his education is evident, as is his determination to "pass the torch on" to help others. During his graduation speech he remarked, "I think for many of us, as adults, it's easy to lose sight of those dreams we had in our youth, and sadly let go of. But I have found that at Empire State College, lost dreams awaken and new opportunities arise. My father once told me, 'It doesn't matter how many times you fall down. What matters is that you get up.'"
Like many of our students, Franz has gotten up – and will continue to get up – with the help of our alumni and donors. During his educational journey, Franz experienced an epiphany about the value and impact of his experience at Empire State College. "I now realize the power education has to alter the way I see the world around me and the difference I can make in it."
Franz ended his speech with a statement that was both an affirmation and a celebration – one that his classmates surely shared. "Hello, my name is Franz Washington, and I am a college graduate!"
Questions?
We are always happy to hear from alumni, students and other friends of the college.
For general inquiries, dial extension 2248.
Our fax number is (518) 580-0700.
800-847-3000