July 26, 2019
SUNY Empire State College to Showcase Alumni Art in Saratoga Springs
First in a New Series of Art Exhibits Opens at the College's New Student Center

"A Study of Color: Old Masters to Contemporary Art," Featuring Works by Alumnae Dawn Judkins '17 and Lynne Jones '14, Opens Monday Aug. 5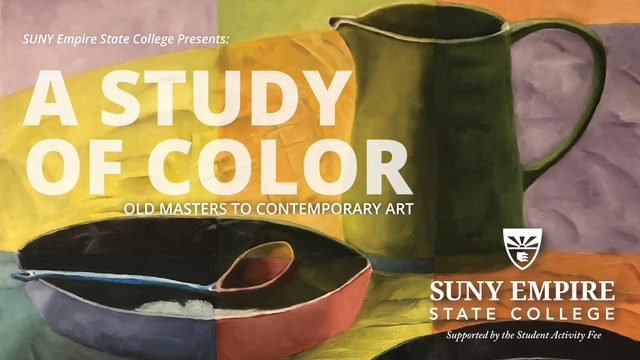 (SARATOGA SPRINGS, New York – July 26, 2019) SUNY Empire State College will showcase 41 works by two alumnae at its new Student Center in Saratoga Springs, with an opening reception on Monday, August 5 from 6-8 p.m. The show kicks off a new series of art exhibits hosted by SUNY Empire highlighting the works of students, alumni, faculty, and the broader community.
"A Study of Color: Old Masters to Contemporary Art," features artwork by alumnae Lynne Jones '14 and Dawn Judkins '17. The artists will be present to discuss their work at the reception, which is free and open to the public.
"We're proud to showcase these incredible works by two of our talented alumnae," said SUNY Empire State President Jim Malatras. "Art has a unique power to inspire, provoke, and bring people together – which makes it an indispensable component of our educational mission. We welcome the entire community to stop in and view the works at our beautiful, newly renovated Saratoga Springs student center this summer and fall."
MaryAnn Borden, a member of the Arts and Media faculty, curated the exhibit.
The exhibit and reception will be held at 111 West Ave., Saratoga Springs, home of the college's state-of-the-art Student Center, which re-opened earlier this year after a $4.2 million renovation.
About Lynne Jones '14
Jones took a chance in 2005 and attended a studio art class with a friend.
Her four children were grown and making their own lives and she was looking for a new passion.
Jones completed a Bachelor of Arts in The Arts, with a concentration in studio arts, and lives in Lake George.
"I was surprised by the relaxation that painting provided and how time flew by as I immersed myself in each new piece of art," said Jones.
Through her courses and her painting, she has learned about color theory, light, and reflection, as well as the value of color and movement in an object and how elements recede and come forward.
About Dawn Judkins '17
While raising her three children, she took decorative painting classes at a nearby craft store and, later, enrolled with SUNY Adirondack, where she took art classes.
Judkins completed her Bachelor of Arts in The Arts, with a concentration in oil painting in 2017.
She said, "One of my most favorite pastimes is sitting for hours creating artwork with my five-year-old granddaughter who just recently said to me, 'Nonna when you grow up, you can be an illustrator.'"
As a student, Judkins won second place in the college's Student Art Competition for her painting, "Ode to JF," which was published in the fall 2016 issue of the college's journal, "Metropolitan Review."
For her final project, she organized "A Myriad of Art," an exhibition featuring 13 SUNY Empire art students and local artists.

About the Student Center
As with most of college's other 33 statewide locations, the Student Center at 111 West is open Monday through Friday, 8:30 a.m. to 5 p.m. The center offers collaborative coworking spaces, state-of-the-art technology, meeting rooms, and access to SUNY Empire State College's 1 Stop Student Services staff.
Visitors and students can talk to SUNY Empire State College staff about applying to the college, academic services, disability services, financial aid, payments, registration, veteran and military affairs, and more.
Saratoga-based staff also manage many online student-support resources, available at any time.
Environmentally friendly features of the Student Center include geothermal heating, LED (light-emitting diode) lighting, and low-volatile organic compound products, such as paint and sealants.
About SUNY Empire State College
SUNY Empire State College educates more than 17,000 students in person, online and through a blend of both, at more than 30 locations in New York and at eight international sites worldwide. Together with one of SUNY Empire's more than 1,300 faculty mentors, each student designs his or her own individualized pathway to a college degree that accommodates his or her schedule and awards credit for prior college-level learning. SUNY Empire awards more than 3,000 degrees annually and 94 percent of graduates stay in New York state. Today, more than 87,000 SUNY Empire alumni are entrepreneurs, veterans and active members of the military, professional athletes, teachers, medical professionals and leaders in their field, as well as in their communities. To learn more, visit www.esc.edu and follow the college on social media @SUNYEmpire.