November 29, 2020
SUNY Empire State College Increases Access to Higher Education for 13,000 Big I New York Members across the State
SUNY Empire Offers More Than 110 Online Programs and Grants College Credit for Professional Experience, Reducing the Overall Cost of a Degree

BIG I New York Represents 1,750 Independent Insurance Agencies and Their 13,000 Employees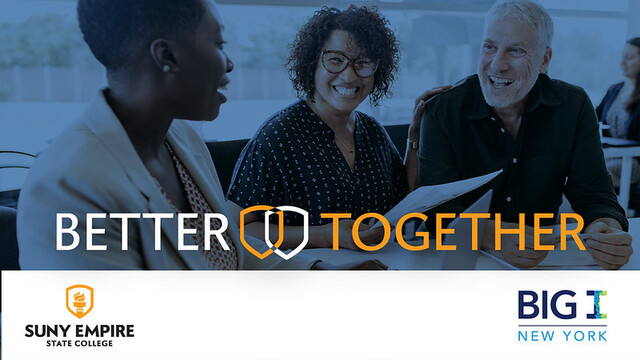 (SARATOGA SPRINGS, NEW YORK – November 29, 2020) SUNY Empire State College today announced a new partnership to expand educational opportunities for the more than 13,000 members of Big I New York, which represents 1,750 independent insurance agencies in New York state.
The partnership agreement will waive the admission fee and provide a presidential scholarship for all eligible Big I New York members who enroll in any degree or certificate program offered by SUNY Empire. Participants will also benefit from SUNY Empire's prior learning assessment process, which awards college credit for work and life experience, reducing the overall cost and time needed to complete a degree. Insurance brokers or agents in New York state can earn up to 14 college credits depending on what licenses they hold.
SUNY Empire offers prospective students more than 110 flexible online programs, from certificates to master's degrees. The college has been conducting online instruction since 1995, blended with face-to-face learning at campuses and learning hubs in every region of the state, including Central New York.
Big I New York supports independent insurance agents through educational programs, advocacy, networking events, and community outreach. Big I New York offers a number of opportunities to earn continuing education credits through webinars and other web-based sessions, so its members are already familiar with studying online.
"SUNY Empire State College is proud to partner with Big I New York to help insurance professionals advance their education," said SUNY Empire State College Officer in Charge Beth Berlin. "Thank you to Big I New York for creating an opportunity for their members to earn an affordable degree online without interrupting their life or career."
For more information about the SUNY Empire and Big I New York partnership, please click here.
About SUNY Empire State College
SUNY Empire State College educates 16,000 students per year in person, online, and through a blend of both, at locations in every region of New York and at eight international sites worldwide. Together with one of SUNY Empire's 800 faculty mentors, each student designs their own individualized pathway to a college degree that accommodates their schedule and awards credit for prior college-level learning. SUNY Empire awards more than 3,000 degrees annually and 94 percent of graduates stay in New York state. Today, more than 89,000 SUNY Empire alumni are entrepreneurs, veterans, and active members of the military, professional athletes, teachers, medical professionals, and leaders in their field, as well as in their communities. To learn more, visit www.esc.edu and follow the college on social media @SUNYEmpire.