November 17, 2020
SUNY Empire State College Food Drives in Rochester, Saratoga Springs, and Selden Collect In-Demand Items for Community Food Banks ahead of Holiday Season
Demand Continues to Increase Across the State as Food Insecurity Rises in Wake of Pandemic

Touchless Drive-Up Food Drives Collected Food Safely, Following State Health Guidelines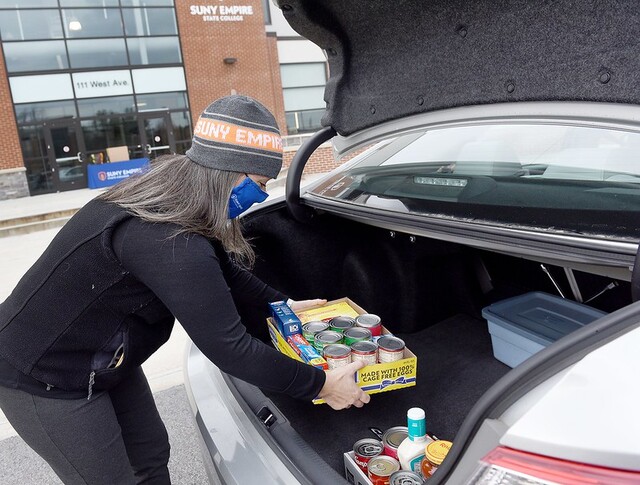 (SARATOGA SPRINGS, NEW YORK – November 17, 2020) SUNY Empire State College held three concurrent food drives across New York state today at its Rochester, Saratoga Springs, and Selden campuses to support food banks in need ahead of the holiday season. Food insecurity has increased considerably since the start of the COVID-19 pandemic and its economic repercussions, and food banks are struggling to keep up with demand.
The touchless drive-up food drives allowed the community to donate safely, with SUNY Empire volunteers collecting items from donors' cars with zero contact.
In the Capital Region, items collected at the Saratoga Springs campus were donated to the Regional Food Bank of Northeastern New York. Compared to previous years, the Food Bank has provided 121 percent more food to children through its school backpack program and has distributed 38.4 million pounds of food to partner agencies – a 39 percent increase – since March. The Food Bank has responded to the needs of the Saratoga Springs community since 1982, with a mission of alleviating hunger and preventing food waste.
SUNY Empire's Rochester location was the drop-site for the Brighton Food Cupboard and Beyond the Sanctuary. The Brighton Food Cupboard is an affiliate of the Jewish Family Service of Rochester, and Beyond the Sanctuary is a community-based organization that address the physical and emotional challenges of poverty and hunger for individuals in the need in our community.
In Selden, volunteers collected donations on behalf of the Long Island Cares, the Harry Chapin Food Bank. Founded as the first food bank on Long Island, New York, in 1980 by the late singer, Grammy Award-winning songwriter and social activist Harry Chapin, the organization provides nutritional food and support services for a network of more than 580 community-based member agencies, including food pantries, soup kitchens, emergency shelters, child care programs, disability organizations, veterans' services programs and more.
Please click here for pictures from today's events.
About SUNY Empire State College
SUNY Empire State College educates 16,000 students per year in person, online, and through a blend of both, at more than 30 locations in New York and at eight international sites worldwide. Together with one of SUNY Empire's 800 faculty mentors, each student designs their own individualized pathway to a college degree that accommodates their schedule and awards credit for prior college-level learning. SUNY Empire awards more than 3,000 degrees annually and 94 percent of graduates stay in New York state. Today, more than 89,000 SUNY Empire alumni are entrepreneurs, veterans, and active members of the military, professional athletes, teachers, medical professionals, and leaders in their field, as well as in their communities. To learn more, visit www.esc.edu and follow the college on social media @SUNYEmpire.