September 18, 2020
Statewide Leaders Bring Education, Social Justice Backgrounds to SUNY Empire State College's Shirley A. Chisholm Center for Equity Studies Board of Advisors
Chisholm Center to Research Roots and Impacts of Structural Racism, Develop Policy Solutions

Members Bring Deep Commitment to Social Justice; Will Guide Policy, Programming, and Informational Events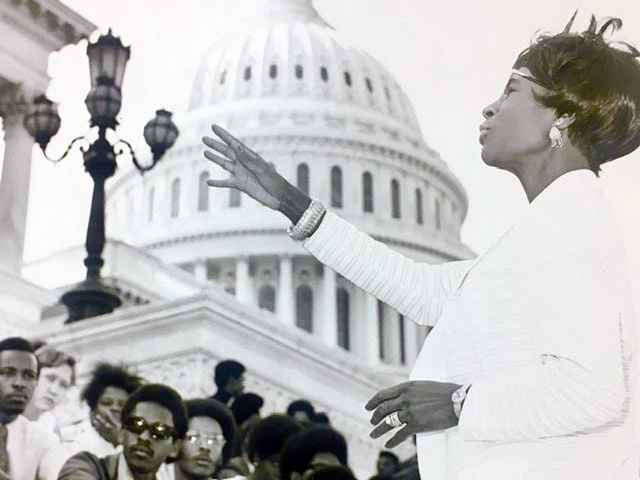 (SARATOGA SPRINGS, NEW YORK – September 18, 2020) SUNY Empire State College today announced the members of the Shirley A. Chisholm Center for Equity Studies Board of Advisors, a diverse group of accomplished leaders in New York state and beyond with a shared commitment to social justice. The group will help guide the center's work in researching, revealing, and correcting the active legacy of racism in America's institutions, systems, and culture.
SUNY Empire State College launched the Shirley A. Chisholm Center for Equity Studies in June, in honor of the Brooklyn native who in 1968 became the first African-American woman to win a seat in Congress. The center will use data-driven analysis to explore and uncover the roots, workings, and impacts of structural racism and systemic inequities in our communities today, as well as to drive policy change to create opportunities for underserved communities.
The advisory board will provide the center with guidance and recommendations with respect to research, programming, fundraising, and community events. As part of the center's mission, students from SUNY Empire's campuses and learning hubs across the state will be given research and other policy opportunities to work alongside nation-leading researchers to analyze and build solutions to long-standing issues of inequality and racism.
The advisory board includes:
Jim Malatras, chancellor of the State University of New York and former president of SUNY Empire State College. Malatras proposed establishing the Chisholm Center in late 2019 as a vehicle to address issues of social and racial injustice.
H. Carl McCall, chairman emeritus of the SUNY Board of Trustees. McCall began his career as a senator, representing Harlem and Manhattan. He later became the first African American to be elected comptroller in New York. He is emeritus chairman of the SUNY Board of Trustees, having served for nearly a decade.
Beth Berlin, executive vice president for administration, chief operating officer, and officer in charge at SUNY Empire State College.
Sir Hilary Beckles, vice chancellor of the University of the West Indies.
Wayne J. Riley, president of SUNY Downstate Health Sciences University.
Jermaine F. Williams, president of Nassau Community College.
Lester W. Young, member at-large of the New York State Education Department Board of Regents.
Elinor Tatum, publisher and editor in chief of New York Amsterdam News.
Carol Boyce-Davies, professor at Cornell University.
Robert Frishman, former press secretary and speechwriter for Congresswoman Chisholm. Frishman drafted speeches on topics including civil and women's rights, racism, education, community development, drug abuse, and healthcare.
Keith D. Amparado, a 1988 graduate of SUNY Empire State College, former president and now emeritus member of the college's Alumni Student Federation Board of Governors, was also a driving force behind the development and success of SUNY Empire's Black Male Initiative (BMI), created by Dr. David A. Fullard, where he remains BMI steering committee chair. Retired from New York University after more than 20 years in various administrative positions, Mr. Amparado is twice a scholarship donor and now sits on the advisory board for the Shirley Chisholm Center for Equity Studies.
Natural Langdon, a 2018 graduate of SUNY Empire State College, and award-winning director, writer, producer, and photographer. Langdon is a Brooklyn native and SUNY Empire alumnus. He teaches children in underserved communities about film production.
"I am incredibly proud to serve the Chisholm Center at SUNY Empire State College with such determined and forward-thinking leaders who have often been at the forefront of social justice and policy change," said SUNY Chancellor Jim Malatras. "Together we will enact change, in the optimistic, determined, and pragmatic spirit of Congresswoman Chisholm. She spent so much of her life fighting injustices that still plague our communities today, and it's a privilege to continue her legacy through the good work of this center."
"The new Shirley A. Chisholm Center for Equity Studies at SUNY Empire State College is taking up the right questions at the right time: how do we understand, reveal, and combat the far-reaching effects of racism in America today?" said H. Carl McCall, chairman emeritus of the SUNY Board of Trustees. "I'm proud to join the center's board of advisors to help guide an evidence-based approach to answering these difficult questions, informing corrective policies, and educating our fellow citizens about these essential issues of American life."
"We're proud to welcome these distinguished leaders, educators, and advocates to the board of advisors of the Shirley A. Chisholm Center for Equity Studies at SUNY Empire State College," said SUNY Empire State College Officer in Charge Beth Berlin. "Their collective experience and diverse perspectives will provide critical guidance as the center seeks to carry forward Shirley Chisholm's legacy through critical research and scholarship, educational programming, and community engagement. I look forward to working with each of them."
"With its home base in Brooklyn, the Shirley Chisholm Center for Equity Studies is well situated to research and address some of the most complex and urgent problems facing America today – namely, this country's complicated history of slavery and racism, and how they live on in our systems and policies today," said Wayne J. Riley, president of SUNY Downstate Health Sciences University. "At SUNY Downstate Health Sciences University, we know the value of rigorous research, and we know the critical role that social determinants play in individual and community health. I'm proud to join the Chisholm Center's board of advisors to assist in its important mission, and do so right in our backyard."
"The collective expertise and experience of this board is incredible, and they are a true representation of Congresswoman Chisholm's mission," said La Tasha Brown, senior academic advisor and program manager for the Chisholm Center. "Their insight will be invaluable to the center. Together, there are no limits to what we can accomplish."
"My years as Shirley Chisholm's speechwriter and press secretary were among the most important of my life but, since then, they have been just glowing memories," said Frishman. "Now, nearly four decades later, I am honored to serve her legacy as an active member of this board. In my head, I still hear her strong voice of vision and commitment; and I will work for others to hear it, too, loud and clear."
"As Black people in this country we are still constantly reminded about all the things we can't do, capability notwithstanding," said Amparado. "The cues and reminders are in every corner and crevice of our society. Shirley reminded, or rather told us outright what we could and should do. Her courage and forthrightness went before her and she led by example. No criticism, insult, admonition or force (sometimes physical) could prevent her from speaking her mind, reminding us that as Black people we are at least as good and capable, if not better, and translating her words into action. She set an example for all of us to follow regardless of our backgrounds, views or beliefs. I am humbled to have an opportunity to extend her legacy."
"It is a great honor to be on the advisory board of the Shirley A. Chisholm Center for Equity Studies," said Langdon. "I hope sharing her legacy and story will inspire generations to come."
The Shirley A. Chisholm Center for Equity Studies has kicked off its fall programming with community engagement events and a virtual interactive seminar series. Please click here for more information and to register.
About Shirley A. Chisholm
In 1964, Chisholm was elected to the New York state legislature, and was the second African–American woman to serve in Albany. She spent four years as an assemblymember before winning the historical Congressional seat that would lead to her representing her constituents and neighbors in New York's 12th district for seven consecutive terms. Her campaign motto of "unbought and unbossed" became the title of her autobiography. The phrase is often used as a tribute to Chisholm's spirit and determination. Throughout her political career and her years spent as a teacher, Chisholm fought for education opportunities, food programs for school children, and charged against social injustices. She served on the Education and Labor committees and was instrumental in the founding of both the Congressional Black Caucus in 1971 and the National Women's Political Caucus the following year. In 1972, Chisholm again made history when she declared her candidacy for the Democratic nomination for president of the United States. She campaigned across the country, and became known as the "candidate for the people."
About SUNY Empire State College
SUNY Empire State College educates students at any stage of life with a personalized learning experience delivered online, in person, or a blend of both. Since 1971, SUNY Empire has empowered students to earn an accredited degree around the demands of a busy lifestyle to advance their personal and professional goals. With world-class faculty, more than 1,300 dedicated mentors to help students tailor their degree programs, and cutting-edge distance learning technology, SUNY Empire delivers a trusted and flexible online college experience grounded in more than 30 New York state locations and seven international sites where students can learn and collaborate in person. Our nearly 50 years as a leader in awarding credit for prior learning and life experience helps students earn a degree faster and at lower cost. To learn more, visit www.esc.edu and follow @SUNYEmpire.