July 22, 2020
Herkimer County Community College Graduates Offered Guaranteed Admission to SUNY Empire's Bachelor's Degree in Security Studies Under New Transfer Agreement between Two Colleges
Program Prepares Graduates for Careers in Homeland Security, Emergency Management, and Law Enforcement

Enrollment is Open for Fall, with Extended Application Deadline Through August 10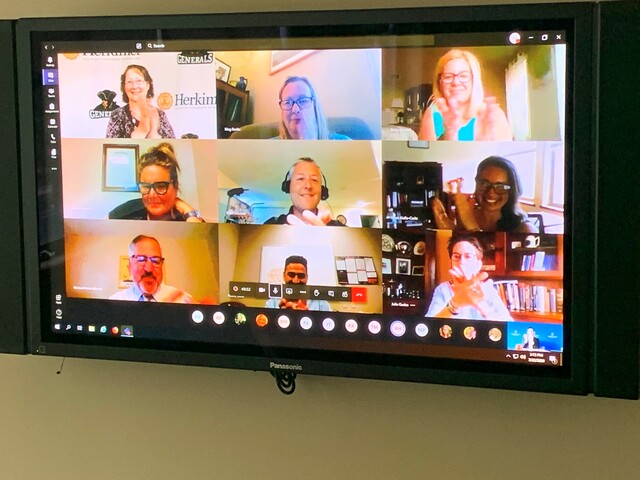 (SARATOGA SPRINGS, NEW YORK – July 22, 2020) SUNY Empire State College and Herkimer County Community College today announced a new partnership that allows eligible graduates of Herkimer College's cybersecurity and digital forensics program to transfer seamlessly to SUNY Empire's new bachelor of science in security studies program, allowing them to complete their bachelor's degree in less time at lower cost.
SUNY Empire announced the first fully accredited, online bachelor's degree program in security studies within the SUNY system last month, and enrollment is currently open for the fall semester. The program responds to the growing need for experts in the fields of emergency management, disaster relief, and law enforcement. It prepares students to meet the complex security challenges of the 21st century, including terrorism, climate change, privacy, and homeland security. Herkimer College graduates, having studied criminal justice information security, cyber intelligence, and computer forensics, will be well-prepared to transition to SUNY Empire and continue their studies in the Mohawk Valley.
The agreement allows incoming students to transfer as many as 79 lower-division credits to SUNY Empire, more than half of the 124 credits required to earn a bachelor's degree, saving students valuable time while reducing tuition costs. The partnership also waives the registration fee and provides a $100 presidential transfer scholarship.
SUNY Empire has welcomed more than 570 graduates from Herkimer College in the last 13 years, many seeking bachelor's degrees in business, management and economics, human services, and human development.
"With SUNY Empire and Herkimer College working together, students of the Mohawk Valley can earn their bachelor's degrees faster, at lower cost, and with a flexible online model that fits their busy lives," said SUNY Empire State College President Jim Malatras. "This is a great opportunity for students looking to make a difference in the world by learning to manage and address the complex threats facing our society. Thank you to President McColgin for sharing SUNY Empire's mission to make a college education more accessible and affordable for students at any stage of life or learning."
"We are focused on creating new, innovative programs and partnerships that ensure all individuals have access to affordable opportunities," said Herkimer County Community College President Cathleen McColgin. "We are proud to have entered into yet another transfer agreement with our long-time partner SUNY Empire State College ensuring a generous acceptance of credits toward a bachelor's degree for graduates of our cybersecurity and digital forensics program."
SUNY Empire recently extended its fall application deadline to August 10 in recognition of the additional challenges posed by the COVID-19 pandemic.
SUNY Empire State College President Jim Malatras and Herkimer County Community College President Cathleen McColgin finalized the agreement during a virtual signing ceremony. To view pictures from today's event, please click here.
About Herkimer County Community College
Herkimer College is one of 30 community colleges in the State University of New York. Centrally located in the Mohawk Valley, Herkimer offers more than 40 associate degree and certificate programs in arts, communication arts, criminal justice and law, business, education, healthcare and service, liberal arts, and STEM. Herkimer is a leader in online learning with 20 degree and four certificate programs, as well as support services, offered entirely online. Herkimer College is a residential college with on-campus housing for more than 600 students and a vibrant campus life, including a national championship-winning athletic program.
About SUNY Empire State College
SUNY Empire State College educates 16,000 students per year in person, online, and through a blend of both, at campuses and learning hubs located in every region of New York state, and at eight international sites worldwide. Together with one of SUNY Empire's 800 faculty mentors, each student designs their own individualized pathway to a college degree that accommodates their schedule and awards credit for prior college-level learning. SUNY Empire awards more than 3,000 degrees annually and 94 percent of graduates stay in New York state. Today, more than 89,000 SUNY Empire alumni are entrepreneurs, veterans, and active members of the military, professional athletes, teachers, medical professionals, and leaders in their field, as well as in their communities. To learn more, visit www.esc.edu,