January 30, 2020
SUNY Empire State College President Jim Malatras Named to National Task Force on Transfer Credit
American Council on Education Task Force Will Identify Best Credit Transfer Practices and Strategies to Promote Success, Equity, and Affordability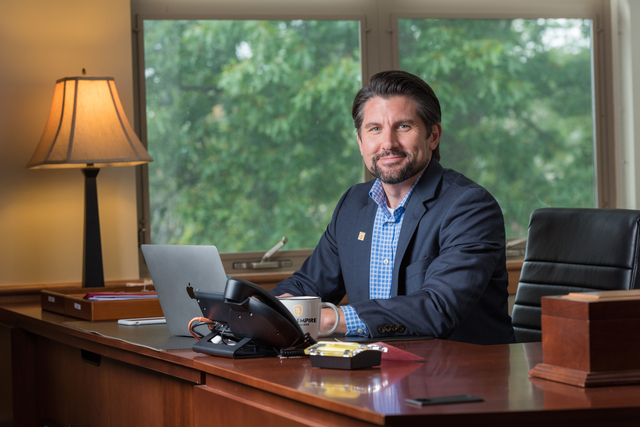 (SARATOGA SPRINGS, New York – Jan. 30, 2020) SUNY Empire State College President Jim Malatras has been named to the new American Council on Education (ACE) National Task Force on Transfer of Credit, which will focus on improving transfer and award of credit practices to spur student success and reduce the time it takes to graduate.
According to 2018 data from the National Student Clearinghouse, 38 percent of the 2.8 million students entering college for the first time in the fall of 2011 transferred to a different institution at least twice within six years. As these students transfer, many of them lose academic credit.
The task force will produce a report containing best practices and emerging strategies for improving the transfer and award of credit, with the goal of advancing student success, promoting equity, and making college more affordable. The report's recommendations also will reflect the diverse missions of U.S. colleges and universities.
"SUNY Empire State College has been a leader in awarding credit for prior learning gained outside the classroom for nearly 50 years, and has strong transfer articulation agreements with all 30 SUNY community colleges and many other institutions" said SUNY Empire State College President Jim Malatras. "I'm proud to join this effort to improve credit transfer practices at the national level, making higher education more affordable and flexible for the millions of Americans who seek to better their lives with a college degree."
With its prior learning assessment and evaluation model, SUNY Empire excels at awarding college credit for previous academic experience, as well as for professional training and life experience that may not receive formal recognition in many transfer models.
More than 50 percent of SUNY Empire students who complete an associate or bachelor's degree receive credit for prior learning, cutting time to degree completion by as much as four terms and saving thousands of dollars. In 2019, the college awarded a total of 57,000 credits for work and life experience.
"While there has been much discussion and work on the topic of transfer of credit in recent years, there is more to do," said ACE President Ted Mitchell. "We want colleges and universities to evaluate previous academic work and nonacademic experiences more effectively to facilitate transfer of credit and completion. Given the increasing mobility of students between institutions and other learning opportunities, we know that improving transfer of credit practices is critical to our efforts to better support students and increase their success. I would like to thank all of the members of the Task Force for committing their time and expertise to this important initiative."
The ACE Task Force is composed of presidents and chancellors of two- and four-year, public and private nonprofit colleges and universities from across the country. It is supported by a generous grant from Strada Education Network. Additional support from the Charles Koch Foundation will fund a series of white papers to inform the Task Force's work on topics such as student support services and pathways, credit transfer technology, and credit for prior learning.
The Task Force will meet several times throughout 2020 to engage with leading experts in the field, identify challenges, and craft solutions to better serve students. A final report will be released in early 2021.
About ACE
ACE is a membership organization that mobilizes the higher education community to shape effective public policy and foster innovative, high-quality practice. As the major coordinating body for the nation's colleges and universities, our strength lies in our diverse membership of more than 1,700 colleges and universities, related associations, and other organizations in America and abroad. ACE is the only major higher education association to represent all types of U.S. accredited, degree-granting institutions: two-year and four-year, public and private. For more information, please visit www.acenet.edu or follow ACE on Twitter @ACEducation.
About Strada Education Network
Strada Education Network is a national social impact organization dedicated to improving lives by forging clearer and more purposeful pathways between education and employment. The Network engages partners across education, nonprofits, business and government to focus relentlessly on students' success throughout all phases of their working lives. Together, we address critical college to career challenges through strategic philanthropy, research and insights, and mission-aligned affiliates. Learn more at StradaEducation.org.
About Charles Koch Foundation
The Charles Koch Foundation partners with social entrepreneurs in education, connecting them with the support to re-imagine and radically expand how we think and act about possibilities in education. The Foundation supports partners across the country who inspire students, push beyond the conventional boundaries with exceptional new programs, research, and advance knowledge that can revolutionize the way society's biggest challenges are addressed. For more information, please visit https://www.charleskochfoundation.org/.
About SUNY Empire State College
SUNY Empire State College educates students at any stage of life with a personalized learning experience delivered online, in person, or a blend of both. Since 1971, SUNY Empire has empowered students to earn an accredited degree around the demands of a busy lifestyle to advance their personal and professional goals. With world-class faculty, more than 1,300 dedicated mentors to help students tailor their degree programs, and cutting-edge distance learning technology, SUNY Empire delivers a trusted and flexible online college experience grounded in more than 30 New York state locations and seven international sites where students can learn and collaborate in person. Our nearly 50 years as a leader in awarding credit for prior learning and life experience helps students earn a degree faster and at lower cost. To learn more, visit www.esc.edu and follow @SUNYEmpire.