June 4, 2020
SUNY Empire State College and Monroe Community College Partner to Allow Students to Earn a Bachelor's Degree in Only One Year After Earning Their Associate's Degree
Guarantees Admission for Graduates of MCC to SUNY Empire

SUNY Empire Degrees Can Be Completed 100 Percent Online

New Partnerships in Addiction Studies, Psychology, and Business Management to Meet Growing Workforce Demand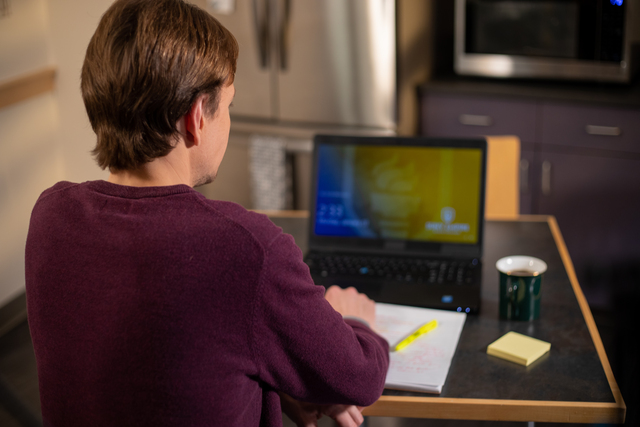 (SARATOGA SPRINGS, NEW YORK – June 4, 2020) SUNY Empire State College and Monroe Community College (MCC) today announced four new transfer pathway agreements allowing MCC graduates to seamlessly transfer as many as 79 lower-division credits to SUNY Empire, more than half of the 124 credits required to earn a bachelor's degree.
This will ensure students can complete their bachelor's program in as little as one year after earning an associate degree—and it can all be done 100 percent online.
The programs are:
Addiction Studies. As part of today's agreement, MCC students who have graduated with an associate degree in addictions counseling will continue their studies in SUNY Empire's addiction studies program, which prepares students to become skilled addiction treatment specialists while helping them advance toward becoming a certified credentialed alcoholism and substance abuse counselor (CASAC) in New York state. The ongoing opioid crisis continues to strain critical services. The New York State Department of Labor projections (2016-2026) indicate employment in the addiction field will increase 29.5 percent in New York state, creating a growing need for substance abuse counselors.


Psychology. Similar to the CASAC numbers, the Department of Labor reports an expected 27.8 percent growth in the broader social assistance field in the next six years. Students with an associate degree in psychology from MCC can continue their studies at SUNY Empire. The discipline covers major broad topics and employs specific social science methodologies for understanding humans, ranging from simple observation to rigorous experimentation.
Business Management. The New York State Department of Labor expects the need for professionals in the field to increase by 12.5 percent through 2026, which is four percent higher than the national average. Management degree-seeking students from MCC will easily transition to SUNY Empire's management program, which continues to adjust and update its curriculum in response to employers' demands. Once completed, students can continue their education in SUNY Empire's graduate program, which has increased credits taught from the 2016-2017 academic year to the 2019-2020 academic year by 80 percent.


General Automatic Transfer Agreement. In addition, the agreement ensures admission to SUNY Empire for all qualified MCC graduates who have completed any associate-level program.
Each of SUNY Empire's programs are available entirely online.
"We are one SUNY system and it is our responsibility as educators to ensure students can pursue their educational goals as seamlessly as possible," said SUNY Empire State College President Jim Malatras. "These areas of study are all incredibly relevant and are desperately needed. Our society continues to witness increases in substance misuse and mental health issues, and we need to bring a new generation of business leaders into the fold. Thank you to Monroe Community College Interim President Katherine Douglas for sharing in our commitment to educating our future workforce."
"With nearly 60 percent of our graduates planning to transfer and continue their education, MCC is excited to partner with SUNY Empire State College and President Jim Malatras to make that transition as easy as possible for students," said MCC Interim President Katherine Douglas. "The new pathway agreements guarantee an exceptional learning experience that will open doors for graduates in their chosen career fields."
Under the partnership, SUNY Empire will waive the registration fee and provide a $100 Presidential Scholarship to all MCC transfer students who have completed an associate degree.
SUNY Empire also offers the opportunity for students to transfer credits for work and life experience through its individualized prior learning assessment (iPLA) evaluation. Examples of college-level learning could include military training, professional licenses and certifications, independent study, and internships or volunteer work.

About Monroe Community College
Founded by business and community leaders in 1961 as a unit of the State University of New York, Monroe Community College offers outstanding academic and workforce training (degree and certificate) programs taught by inspiring faculty. MCC educates students and serves Monroe County and the Greater Rochester community at campuses located in Brighton and downtown Rochester as well as at its Applied Technologies Center, Economic & Workforce Development Center, Public Safety Training Facility, and online. To learn more, visit www.monroecc.edu and follow @MonroeCC.
About SUNY Empire State College
SUNY Empire State College educates students at any stage of life with a personalized learning experience delivered online, in person, or a blend of both. Since 1971, SUNY Empire has empowered students to earn an accredited degree around the demands of a busy lifestyle to advance their personal and professional goals. With world-class faculty, more than 1,300 dedicated mentors to help students tailor their degree programs, and cutting-edge distance learning technology, SUNY Empire delivers a trusted and flexible online college experience grounded in more than 30 New York state locations and seven international sites where students can learn and collaborate in person. Our nearly 50 years as a leader in awarding credit for prior learning and life experience helps students earn a degree faster and at lower cost. To learn more, visit www.esc.edu and follow @SUNYEmpire.