October 1, 2020
SUNY Empire State College Lowers Barriers to College for More than 42,000 Steelworkers through United Steelworkers Institute for Career Development
SUNY Empire Offers 110+ Degree Programs, All Available Online to Fit the Lives of Working Adults

Agreement Increases Access to Education for USW-ICD's More Than 42,000 Members in the Steel, Tire and Rubber, Glass, Container and Utility Sectors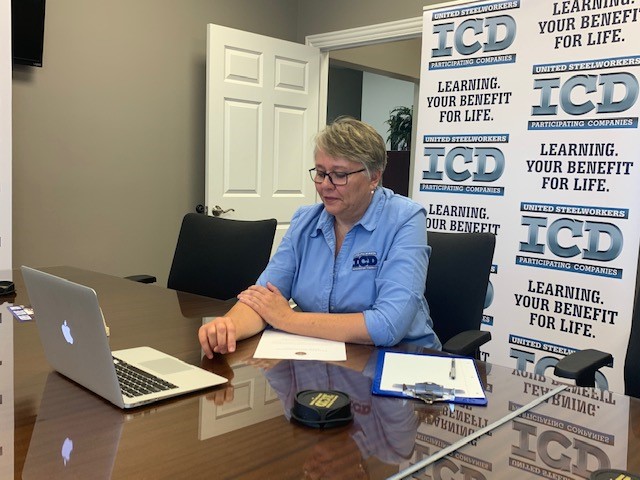 (SARATOGA SPRINGS, NEW YORK – September 30, 2020) SUNY Empire State College today announced it has renewed its longstanding partnership with the United Steelworkers Institute for Career Development (USW-ICD), which was first forged more than 20 years ago to increase access to flexible, high-quality college degrees for steelworkers across the country.
The partnership increases access to education at SUNY Empire for USW-ICD's more than 42,000 active members in the steel, tire and rubber, glass, container, and utility sectors, and is also available to USW-ICD retirees, and their family members. SUNY Empire offers prospective students more than 110 degree programs to choose from, whether they are a first-time student working toward an associate degree, or a returning adult pursing a master's. All programs can be completed entirely online to fit the busy lives of working professionals. Participants will also benefit from SUNY Empire's prior learning assessment process, which awards college credit for work and life experience, reducing the overall cost and time needed to complete a degree. All eligible students will receive a one-time presidential scholarship, and SUNY Empire will waive the admission fee.
The agreement with SUNY Empire aligns with USW-ICD's mission to provide services for the education, training, and personal development of steelworkers at participating companies. Through its Career Development program, which is found in 65 locations in the United States, USW-ICD helps workers acquire the skills they want, whether it's for personal enrichment, the opportunity to progress in the workplace or to prepare for retirement. By upgrading basic skills and educational levels, USW-ICD programs enable steelworkers to have more stable and rewarding careers.
"SUNY Empire State College is proud to offer these benefits to more than 42,000 steelworkers around the country to help them achieve their goals with a college education that accounts for the demands of their busy lives," said SUNY Empire State College Officer in Chief Beth Berlin. "Thank you to the United Steelworkers Institute for Career Development for advocating for your members, and for continually seeking opportunities for them to advance their careers."
"The United Steelworkers Institute for Career Development is very excited to be celebrating this long-standing partnership with SUNY Empire State College, our first nationwide educational partner," said Stephanie Stalmah, assistant director for the United Steelworkers Institute for Career Development. "For more than 20 years, SUNY Empire State College has been providing the USW-ICD program participants with excellent educational options and value."
Please click here to see pictures from today's virtual event.
About the United Steelworkers Institute for Career Development
The Institute for Career Development (ICD) is a contractually negotiated benefit for eligible members of the United Steelworkers and the companies that employ them. ICD is a joint labor-management training program in which members participate in self-directed learning opportunities on their own time. Members can choose from a wide range of course offerings to learn new skills or simply brush up on old ones. Currently, ICD has 65 locations in the steel, tire & rubber, glass, container and utility sectors and 16 participating companies.

About SUNY Empire State College
SUNY Empire State College educates 16,000 students per year in person, online, and through a blend of both, at more than 30 locations in New York and at eight international sites worldwide. Together with one of SUNY Empire's 800 faculty mentors, each student designs their own individualized pathway to a college degree that accommodates their schedule and awards credit for prior college-level learning. SUNY Empire awards more than 3,000 degrees annually and 94 percent of graduates stay in New York state. Today, more than 89,000 SUNY Empire alumni are entrepreneurs, veterans, and active members of the military, professional athletes, teachers, medical professionals, and leaders in their field, as well as in their communities. To learn more, visit www.esc.edu and follow the college on social media @SUNYEmpire.