January 18, 2021
SUNY Empire State College Announces Black Male Initiative Scholarship Recipients
Initiative Was Founded More Than a Decade Ago to Support Students in their Academic Pursuits

Scholarship Recipients Demonstrate Commitment to Education and Community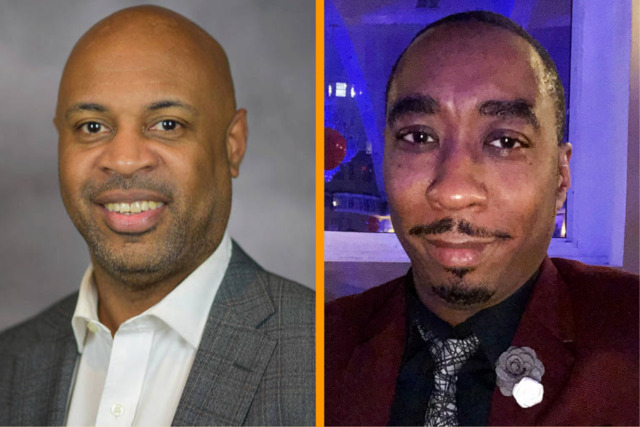 (NEW YORK, NY – January 18, 2021) SUNY Empire State College today announced seven students, all members of the college's Black Male Initiative (BMI), have been awarded scholarships as part of the program's work to remove barriers to education and to acknowledge students' hard work and dedication. Each scholarship was established - and continues to be supported - by the founders of the BMI.
Seven students in SUNY Empire State College's Black Male Initiative (BMI) have been awarded scholarships, each established and supported by the founders of the BMI. The BMI was launched in 2009 to increase retention among the college's Black male population in New York City through peer mentorship and rigorous academic support and has since extended the same opportunities and services to women. The BMI works to improve student success rates with the Fortified Classroom model of academic support, which strengthens students learning experiences by including coaches and mentors in class along with the instructor.
The National Center for Education Statistics (NCES) reports that the number of students of color enrolled in undergraduate programs has more than doubled in the last 30 years, from 16 percent to 33 percent. According to the NCES, of the 16.6 million undergraduate students enrolled in fall 2018, 3.4 million were Latino, 2.1 million were Black, 1.1 million were Asian, 120,000 were American Indian/Alaska Native, and 45,000 were Pacific Islander.
"The Black Male Initiative at SUNY Empire State College is a shining example of our how creating an environment where students are valued, respected, and supported personally and academically enables student achievement," said SUNY Empire State College Officer in Charge Nathan Gonyea. "The success of the BMI is rooted in our students, and I am proud to celebrate their accomplishments."
"I am pleased and proud to announce that seven students received scholarships this year from the family of Black Male Initiative scholarships," said SUNY Empire State College Visiting Associate Professor David A. Fullard and founder of two scholarships at the college. "The BMI and the awardees include both male and female students. This program was conceived more than 12 years ago to support students of color who, among other reasons, did not have the financial means required to pursue a college degree. The scholarships, which we expect to increase in number, are a small but very successful example of how the playing field can be leveled and the condition of families and the society overall changes for the better."
The 2020-21 scholarship recipients include:
Chinelle Antoine, Brooklyn, N.Y. Antoine is currently working toward her bachelor of science in community and health services and will graduate this summer. Antoine has been awarded the Fullard/Mills Scholarship for African-American Women, which Fullard established in honor of his mother, aunt, and grandmother. Antoine credits her family for her drive and academic success, particularly her young son.
Albert Culler, Bronx, N.Y. Culler has been awarded the David A. Fullard Opportunity Scholarship. Culler is currently a manager with the MTA Staten Island Railway and is pursuing a bachelor's degree in public affairs. He began his college career at the age of 50 and finds the experience exciting and gratifying. He plans to continue on to earn a master's degree and run for public office to represent his community. He says his hope is to serve as an inspiration for adults who have deferred their education because of life's challenges.
Chevar Francis, New York, N.Y. Francis received the Black Male Initiative Scholarship and is a children's aid with the goal of becoming an art therapist. In that role, Francis believes he can create a comforting space for people in his community to freely discuss their mental health. His was inspired by his mother and his children to earn his associate degree in the arts. He was raised by a single mother who always talked about the importance of college, and his academic pursuits are his gift to her. Francis' son entered high school this year, and his daughter is a senior at SUNY Oswego and is the president of the Black Student Union.
Stephen Nurse, Brooklyn, N.Y. The Arcadeo and Sadie J. Browne Amparado "Force for Change" Scholarship is awarded to Black male students studying community and human services. Nurse is following his calling as he works toward becoming a substance abuse counselor with the intention to transform the lives of those struggling with addiction. He made the decision to enroll at SUNY Empire in 2018, even though it had been 45 years since he had last been in a classroom. Nurse's determination stems from a desire to help others and believes that determination turns dreams into realities.
Additional recipients requested to remain anonymous. To learn more about BMI and the Fortified Classroom General Education Studies program click here.
About the Black Male Initiative
The Black Male Initiative at SUNY Empire State College is a nation-leading program designed to improve retention and graduation rates among Black and Latino male students who, statistically, face disproportionate challenges in degree completion. Through focused peer and faculty support, career counseling, tailored programming, and in-class supports, BMI provides a space for students to discuss their issues and develop solutions from registration through to graduation. To date, the program has achieved a 95 percent retention rate among its participants. Learn more at www.esc.edu/bmi.
About SUNY Empire State College
SUNY Empire State College educates 16,000 students per year in person, online, and through a blend of both, at locations in every region of New York and at eight international sites worldwide. Together with one of SUNY Empire's 800 faculty mentors, each student designs their own individualized pathway to a college degree that accommodates their schedule and awards credit for prior college-level learning. SUNY Empire awards more than 3,000 degrees annually and 94 percent of graduates stay in New York state. Today, more than 89,000 SUNY Empire alumni are entrepreneurs, veterans, and active members of the military, professional athletes, teachers, medical professionals, and leaders in their field, as well as in their communities. To learn more, visit www.esc.edu and follow the college on social media @SUNYEmpire.