June 4, 2021
83-Year-Old Sheldon Friedland of Yonkers to Receive Bachelor's Degree from SUNY Empire State College
Friedland Says He Has Realized a "Lifelong Pursuit"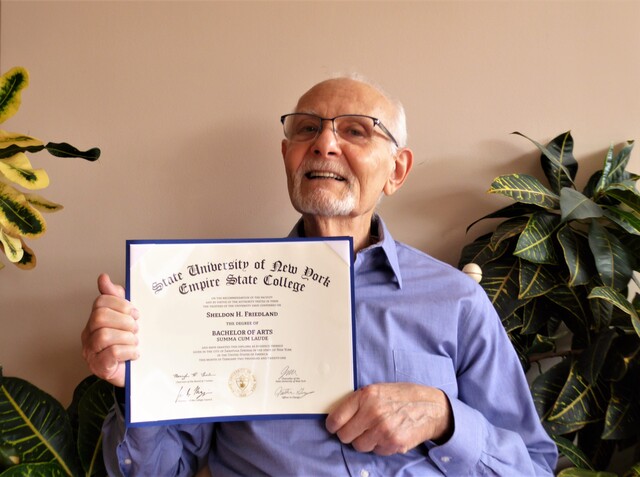 (SARATOGA SPRINGS, NY — JUNE 5, 2021) Sheldon Friedland, 83, has achieved a lot over the course of his lifetime: an honorable military enlistment, a beautiful family, a thriving business, and a home of his own. And on June 5, Friedland will add earning a bachelor's degree to his long list of accomplishments.
On Saturday, Friedland, a Yonkers resident, will turn his tassel with 2,761 fellow
SUNY Empire State College
2021 graduates during the college's virtual summer commencement ceremony.
Friedland said he decided to pursue his college degree in his 80s to fulfill a commitment he made when he was 18 years old taking fine-arts courses at Brooklyn College. But Friedland left college soon after he began, called to serve in the Army infantry during the Korean War. When he returned from the war, he got married, had children, and entered the workforce. Like many adult students at SUNY Empire, Friedland found that he had to sacrifice his college education to provide for his family.
"I never abandoned my dream of earning a college degree," Friedland said. "Over the years, despite the time-consuming responsibilities of supporting a family and running a business, I took museum and college courses and created works of art, some award-winning. At the age of eighty-three and fully retired, I decided I wanted to join my wife, children, and grandchildren as a college graduate."
And he's done just that, graduating summa cum laude. He is now a proud college graduate with a degree in the arts. He says the experience is especially poignant because two of his four grandchildren also earned their degrees this year at DePaul University.
"22 years ago, when they were born, who could have imagined this happy alignment of events?" Friedland asked. "Now Daniel, Matthew and I join their parents, sisters, uncle, and my wife as the proud recipients of college degrees, and we add to our family's legacy of learning."
Friedland's mentor and professor of visual arts in SUNY Empire's School of Arts and Humanities, Betty Wilde-Biasiny, said Friedland started off strong, earning 12 college credits — an entire semester's worth — for prior life experience in stone carving.
"His many years of taking workshops, establishing his own studio practice, and frequent exhibitions resulted in this wonderful achievement and recognition for his life's work, in addition to earning his bachelor's degree," Wilde-Biasiny said. "He tried many new things at SUNY Empire as well, and developed a newfound passion for watercolor."
In return, Friedland credits Wilde-Biasiny with championing him through his degree program.
"I had a mentor who I would have to attribute to her my eventual graduation. Betty is the most kind, considerate, and helpful mentor any individual could hope to have," he said. "She encouraged me, never let me get down, showed me the way, and led me to my degree."
Friedland said that at 83, he has no professional expectations as the result of earning his degree, but he hopes to combine his newfound knowledge with the credibility of a college degree to volunteer his services to arts organizations and impart his love of art to others.
"This is the culmination of a lifelong pursuit," Friedland said. "I'm gleeful. I'm walking on air."