April 19, 2021
SUNY Empire and Life's WORC Establish Corporate and Community Partnership
Partnership Provides Life's WORC Members, Employees, Retirees and Residents with Additional Savings and Benefits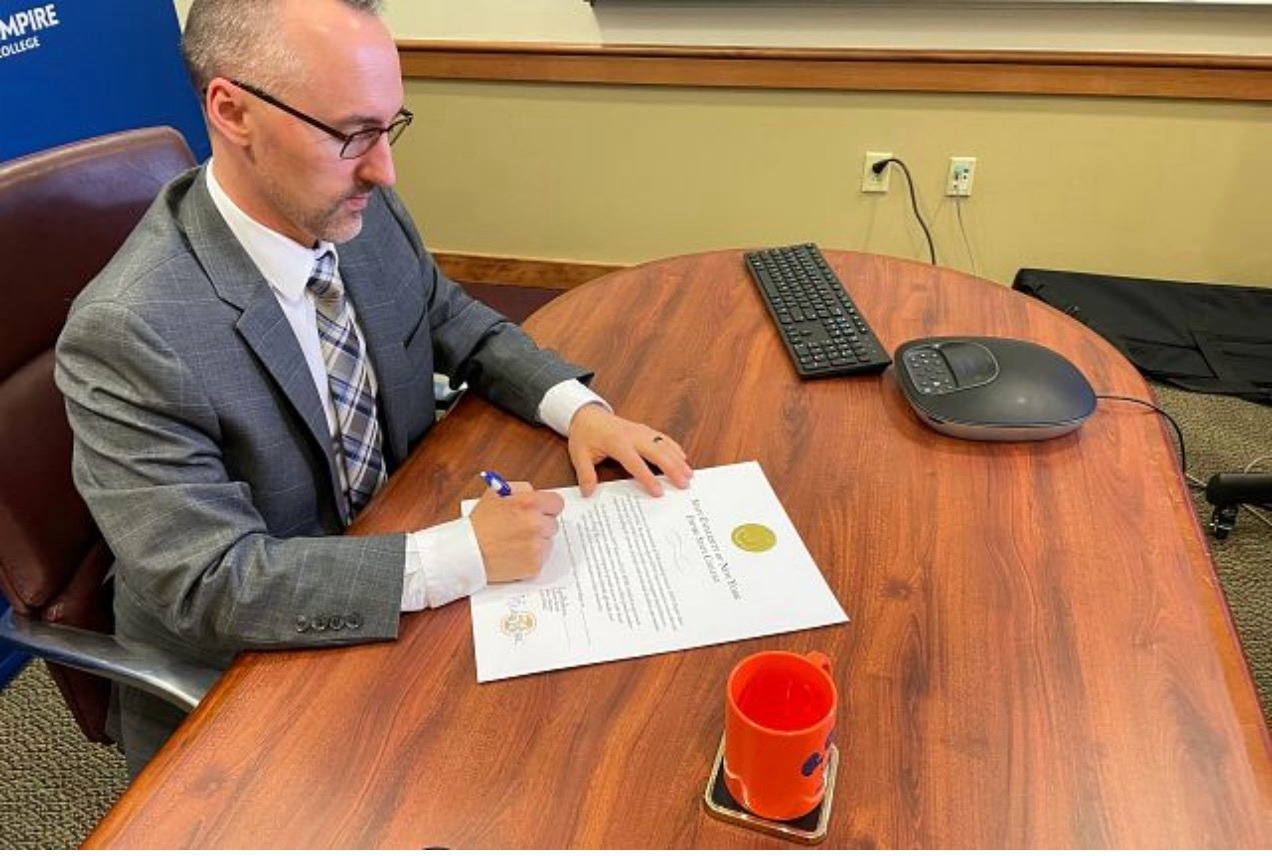 (SARATOGA SPRINGS, NEW YORK – April 19, 2021) SUNY Empire State College and Life's WORC, a nonprofit organization that supports more than 2,000 people with intellectual disabilities and autism in Queens, Manhattan, Nassau and Suffolk Counties through residential and community services, the Family Center for Autism, and Life's WORC Trust Services, recently finalized a partnership agreement offering educational degree options for its members, employees, retirees and residents.
The partnership agreement allows Life's WORC participants to participate in the college's Corporate and Community Partnership Benefits Program. As part of the agreement, SUNY Empire will waive the orientation fee for incoming students and provide a $100 Better Together scholarship for participants who enroll in a degree-seeking program at SUNY Empire State College.
All programs can be completed entirely online to fit the busy lives of working professionals. Students will also benefit from SUNY Empire's prior learning assessment process, which awards college credit for work and life experience, reducing the overall cost and time needed to complete a degree.
"The partnership between our two organizations is as timely as it is important. In August, SUNY Empire State College launched the Center for Autism Inclusivity, which provides educational support and conducts research to better serve individuals with autism. In partnership with Anderson Center for Autism, the center will also promote workforce development for professionals serving individuals with autism. We're also developing new degree programs, including a Master of Science in Applied Behavior Analysis, that prepare the workforce to address the educational, emotional, and social needs of those with autism," said SUNY Empire Officer in Charge Nathan Gonyea.
"We greatly value our partnerships and the ways in which we work collaboratively to bring educational opportunities to New Yorkers within these organizations. In partnering with Life's WORC, we are confident we can help meet a variety of their educational needs and build a stronger workforce and community," said Sue Epstein, executive director of partnerships at SUNY Empire State College.
"The mission of Life's WORC is to serve those with intellectual disabilities and autism by providing services and support, which aligns with our commitment to become an autism inclusive college. SUNY Empire is proud to partner with Life's WORC in providing access for members of their organization to earn their degrees and advance in their careers," said Kylie Byrne, director of corporate and community partnerships at SUNY Empire State College.
"As we celebrate Autism Awareness Month, Life's WORC is excited to partner with SUNY Empire to offer our employees an opportunity to enhance and strengthen their skills and education in the field of disabilities and autism. Life's WORC is known for and it prides itself on the values of responsibility to one another, providing high-quality supports and services, teamwork so we can continuously learn and grow, and communication to engage, listen and share. This partnership is an opportunity to live our values as it exposes our staff to a variety of new programs at a high-quality institution, which will benefit them, as well as the people they are supporting," said Lynette Garcia, senior director at Life's WORC.
About SUNY Empire State College
SUNY Empire State College educates 17,000 students per year in person, online, and through a blend of both, at locations in every region of New York and at eight international sites worldwide. Together with one of SUNY Empire's 700 faculty mentors, each student designs their own individualized pathway to a college degree that accommodates their schedule and awards credit for prior college-level learning. Now in its 50th year, SUNY Empire awards approximately 3,000 degrees annually and 94 percent of graduates stay in New York state. Today, more than 91,000 SUNY Empire alumni are entrepreneurs, veterans, and active members of the military, professional athletes, teachers, medical professionals, and leaders in their field, as well as in their communities. To learn more, visit www.esc.edu and follow the college on social media @SUNYEmpire.
About Life's WORC
For more than 50 years, Life's WORC has provided comprehensive services and support to people with intellectual disabilities and autism and their families in Queens, Manhattan, Nassau and Suffolk Counties. Life's WORC supports more than 2,000 people across its residential locations and community programs. Additional programs for families and people with intellectual disabilities include at-home support, skills development and behavioral intervention, social recreational programs, and vocational training opportunities.
Please click here to learn more about SUNY Empire and Life's WORC partnership.