July 20, 2022
Rachel Sproule '22
SUNY Empire Grad Overcomes Lifetime of Challenges to Walk the Stage at Commencement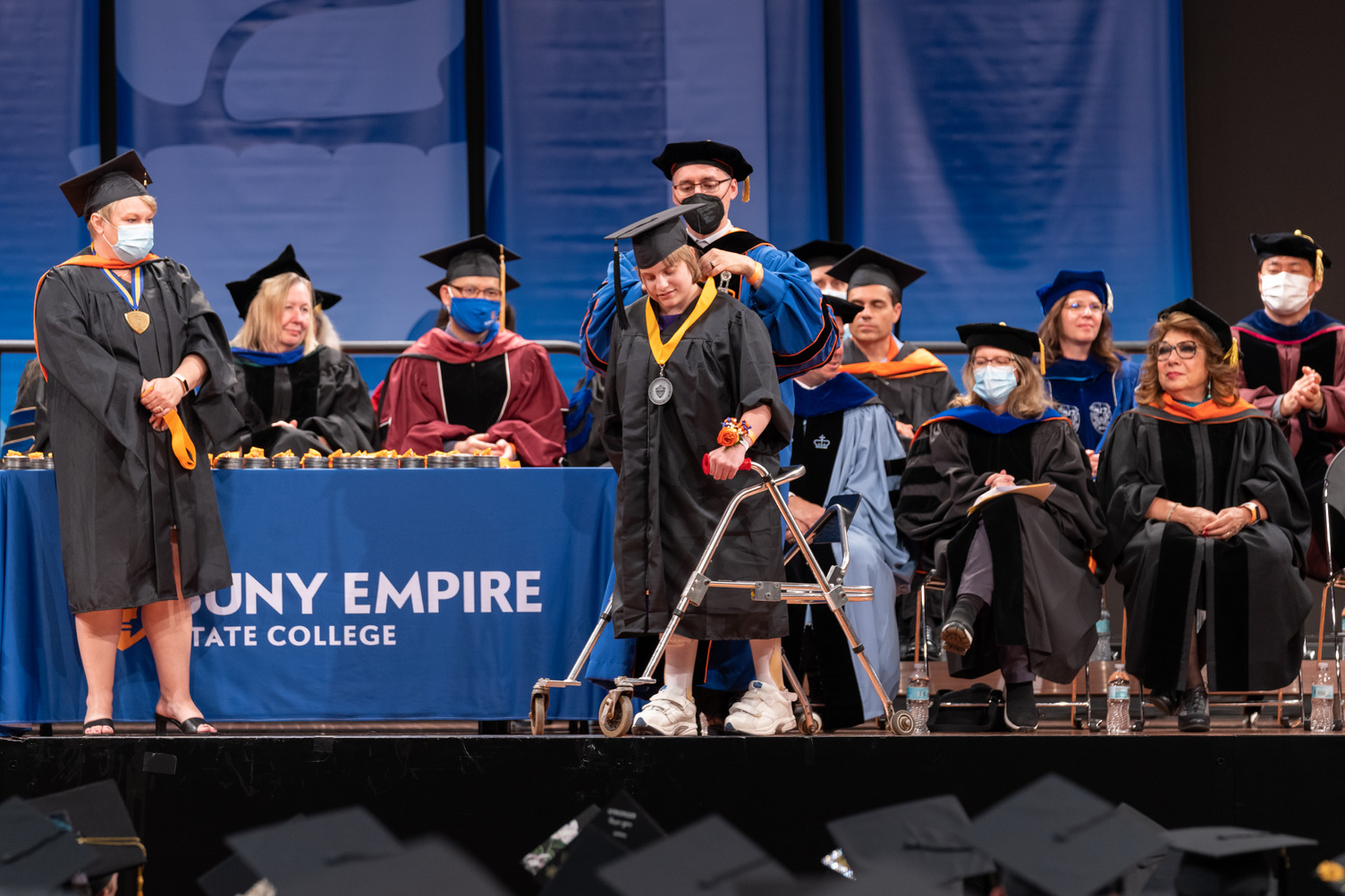 This spring, Rachel Sproule arrived at SUNY Empire's Albany commencement at the Empire State Plaza Convention Center, determined to walk across the stage. For most students, the walk is a relatively simple feat. But for Rachel, who is visually impaired and uses a walker, the walk was a goal unto itself.
"I was always comparing myself to my sister," Rachel says. "She had everything that I wanted, including a college degree. I felt that once I crossed the stage, things would equal out."
For Rachel, walking across the stage was an achievement that capped a remarkable educational journey, fraught with medical challenges, academic hurdles, and the ignorance of others. By the time she took that walk, Rachel had already endured a lifetime of challenges, all of which she met head-on, thanks to loving parents, a keen intellect, and an unrelenting will to succeed.
Difficult Early Years
Rachel and her twin sister Andrea spent the first four months of their lives in the neonatal intensive care unit, each weighing less than two pounds at birth. The early months in the hospital took a toll on Rachel, who has cerebral palsy. Her parents soon realized that she was also legally blind and could see things no farther than six inches from her face.
The family lived in Gloversville, NY and Rachel, Andrea and their older brother Aaron attended the Gloversville schools. Academically, Rachel excelled. She had a vocabulary of a six-year-old when she was three and was reading at a 12th grade level by the time she was in fifth grade. "If she could get it close to her nose, she could read anything," says her mother, Pam Sproule.
But school was an ongoing struggle. Visual impairments were rare in any district, and not everyone could accommodate her. "I had one staff who thought I was faking my disability," she says. "I had kids make fun of me and hit me."
Math was often difficult too. Division signs looked like plus signs, decimals resembled commas, and negative numbers were often confused with minus signs. Throughout middle school, Rachel stayed after school three times a week to work with a teacher. "They had to make sure Rachel was seeing the precise notation," Pam says.
When it came time to graduate from high school, Rachel was disappointed to learn the ceremony was not easily accessible. She had to walk across the stage with the assistance of staff by her side.
Onward to College
At first, attending college wasn't much better. One of the instructors at her first college used an overhead projector, and Rachel couldn't see the images. Getting to classes that were in different buildings was a daily challenge, given her limited mobility. She also had to ride an elevator to get to class, and once got stuck when the elevator broke down.
Rachel finally dropped out when the software that enlarged her computer screen crashed during a final exam, and the professor failed her. She tried to get a job but lacked the transportation.
Rachel was determined to get a college degree. Though she initially wanted the traditional in-person college experience, she was happy to learn that she could earn her degree through SUNY Empire online, and that the college had a history of supporting people who are visually impaired. She started in Spring 2020 just as the pandemic began. Being online meant she could take her classes in the morning before eye strain set in in the early afternoon.
Even so, Rachel always checked in with professors before she registered for her classes to make sure there were no movies to watch and that the books were available electronically. "With the help of Melissa Zgliczynski, director of accessibility resources, supportive instructors, and the flexible degree-planning class, SUNY Empire made it happen," she says.
Graduation and Beyond
At the SUNY Empire commencement ceremony in Albany this spring, Rachel resolved to walk across the stage. Thanks to Timothy Cosgriff, director of community events and Sue McFadden, assistant director for special events, she was able to rehearse her walk in late April, with her sister by her side.
On the day of graduation however, Rachel asked her sister to stay back. Andrea Piazza, SUNY Empire's disability specialist, was a few steps ahead guiding her but not next to her. Her mother Pam was watching — and a nervous wreck. "My biggest worry was that she could not see the edge of the stage," Pam says. "But she didn't fall off the stage, and she was smiling every time I looked at her."
Now that she has an associate degree in community and human Services, Rachel's next goal is to get her bachelor's degree at SUNY Empire and become a certified child life specialist. These healthcare professionals are trained in the developmental impact of illness and injury on children and serve as liaisons between families of children in the hospital and their medical team. Her dream is to work at Albany Medical Center.
"I've done everything they said I would never do and more," Rachel says. "My goal after I graduate with my bachelor's degree is to complete my required practicum and internship, sit for my board exam, and hopefully write a memoir."
Rachel also wants to help others struggling with disabilities. She's already done some inspirational speaking at the College of Saint Rose and Johnstown High School. "My hope is to help people by letting them know they're not alone," she says.