October 29, 2019
Suffolk County Executive Bellone and SUNY Empire State College Sign Educational Partnership Establishing Trail Access for Students, Community
College's 6.6 Acres Will Form Part of County's Comprehensive, Countywide Plan for Hiking and Biking Trails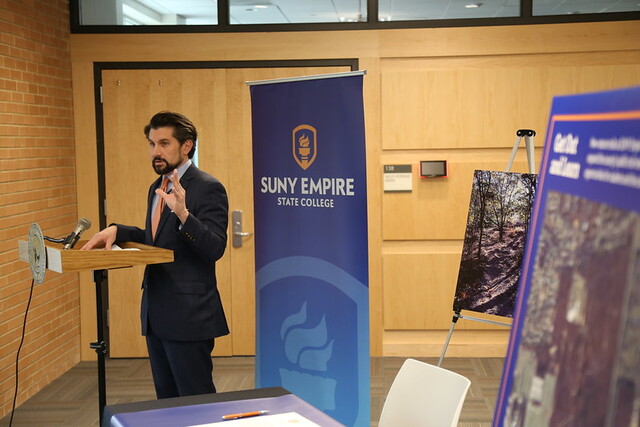 (SELDEN, New York – Oct. 29, 2019) Suffolk County Executive Steve Bellone and Dr. Jim Malatras, president of SUNY Empire State College, signed an educational partnership today that will connect the county's existing trail network to the college's new 6.6-acre Long Island campus in Selden, which is scheduled to celebrate its grand opening in November.
The trail network connection will be used for academic programming to enrich the learning experience at the Selden campus and allow for general public use. SUNY Empire Assistant Professor Dr. Matt Schmidt will design academic programs and events for students and the public focused on exploration and study of the surrounding habitat, including a project to map the trail system.
The Nature Conservancy, led by Conservation Lands Director Joe Jannsen, will mark and rate the trails to ensure accessibility. The trails will be maintained in part by volunteers from the Long Island Greenbelt Trail Conference, led by conference administrator and SUNY Empire student David Reisfield.
"This partnership will benefit our students by leveraging the County's sprawling trail network and turning it into a model program through SUNY Empire State College," said Suffolk County Executive Steve Bellone. "I want to thank Dr. Malatras for his creativity and desire to offer students a more livable, walkable and exciting educational experience on campus."
"SUNY Empire State College is happy to do its part to protect and maintain these natural areas for the benefit of its students, faculty, and staff, as well as the broader Suffolk County community," said Jim Malatras, president of SUNY Empire. "I'm grateful to County Executive Steve Bellone for his leadership in expanding this trail system and to the Nature Conservancy and the Long Island Greenbelt Trail Conference for helping to make these trails safe, accessible, and educational for every visitor."
New York State Department of Environmental Conservation (DEC) Commissioner Basil Seggos said, "This new trail partnership between Suffolk County and SUNY Empire State College will make nature even more accessible to students and the surrounding community. The trail also complements New York State's ongoing support for outdoor recreation initiatives that connect people to our environment. I applaud County Executive Bellone, President Malatras, and their partners for encouraging students to learn about Long Island's habitat and getting more New Yorkers outside to enjoy Long Island's natural resources."
Suffolk County is in the process of developing a comprehensive and coordinated vision for a connected network of hiking and biking trails County-wide, facilitating transportation, recreation, tourism, and economic development. The County is currently analyzing more than 70 miles in buffered bike lanes, 800 miles in bike lanes and signed bike routes, and 150 miles in potential shared use paths similar to the North Shore Rail Trail as part of this planning process. The master plan will map the existing hiking and biking network, identify the gaps in that network, and then develop a plan to prioritize and build out those gaps. A completed master plan and suite of recommendations are expected by early 2020.
SUNY Empire Selden Campus Will Celebrate Grand Opening in November
SUNY Empire State College currently serves more than 1,300 students in Suffolk County, through both online and in-person instruction. The new SUNY Empire campus at Selden will be a state-of-the-art, environmentally friendly learning facility outfitted with modern learning and working spaces, including Immersive Cloud Learning rooms that allow students on Long Island to learn and collaborate in real time with faculty and students at SUNY Empire locations across New York State.
About SUNY Empire State College
SUNY Empire State College educates more than 17,000 students in person, online, and through a blend of both, at more than 30 locations in New York and at eight international sites worldwide. Together with one of SUNY Empire's more than 1,300 faculty mentors, each student designs their own individualized pathway to a college degree that accommodates their schedule and awards credit for prior college-level learning. SUNY Empire awards more than 3,000 degrees annually and 94 percent of graduates stay in New York state. Today, more than 87,000 SUNY Empire alumni are entrepreneurs, veterans, and active members of the military, professional athletes, teachers, medical professionals, and leaders in their field, as well as in their communities. To learn more, visit www.esc.edu and follow the college on social media @SUNYEmpire.