April 24, 2019
Four Selected for the SUNY Chancellor's Award for Student Excellence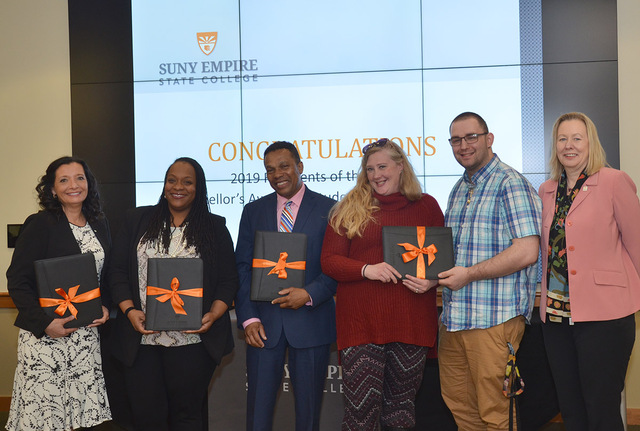 (SARATOGA SPRINGS, New York – April 24, 2019) Four SUNY Empire State College students have been selected to receive the Chancellor's Award for Student Excellence, the SUNY system's most prestigious student honor.
They are:
Created in 1997, the award honors students who have demonstrated and achieved recognition for integrating academic excellence with accomplishments in several areas, including: leadership, athletics, community service, creative and performing arts, campus involvement and career achievement.
"Today's award recipients emerged from their campuses this year as the top scholars, athletes, performers, and achievers, as well as a tremendous source of inspiration," said Chancellor Kristina Johnson. "The students being recognized today made the choice to be leaders on their campuses, prioritize their studies, and serve their communities. Congratulations to this year's awardees, and I applaud you for pursuing excellence in all that you do."
"Congratulations Lynn Ann, Tatiana, Julian, and the friends and family of Wales Brown, for your remarkable academic achievements, college leadership and community service," Officer in Charge Mitchel S. Nesler said. "This year's ceremony carries particular poignancy because of the premature death of Wales Brown, one of our most accomplished students. Our hope is that Wales' legacy will inspire current and future students and alumni to excel in their chosen careers and in their service to the communities where they live and work."
About Wales A. Brown '15, '18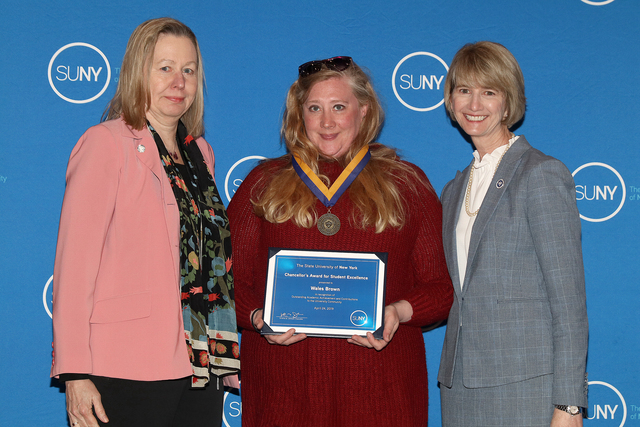 Wales A. Brown '15, '18, a lifelong Schenectady resident, completed his Master of Arts in Adult Learning in 2018, and his Bachelor of Science in Community and Human Services in 2015. He died in early March 2019 after a brief illness. Brown's daughter, Robyn Bell, and his son, Alden Brown, accepted the award at the SUNY system event today in Albany.
When he learned he was nominated, Brown asked his daughter and son to accompany him to the award ceremony.
"I feel very honored and proud of my dad," Bell said. "When he learned he might get the award he asked me: 'Honey, if I win this award, will you be my date?' He was my dad even when he didn't have to be."
Bell said that she thinks about what a great dad he was to all his children and how fortunate they were to have him as a father.
In talking about his father, Alden said, "Well, he adopted me. He was originally my social worker. He stuck by my side through everything. He helped me through school, work and has been there for me. I'm really proud of him. He's done so much for the community, his job and his family."
At the time of his death, he was enrolled in the college's Master of Arts in Emerging Technology program.
Brown earned an associate degree from SUNY Schenectady County Community College in 1988 and served as the student member of that college's board of trustees.
In 2018, he received SUNY Empire State College's Student Service Award and completed SUNY Empire's yearlong Student Leadership Institute program in 2016.
For the past two years, Brown served as vice president of the college's Graduate Student Collaborative, a student/alumni club.
He represented the college and presented his paper at the E-Learn World Conference on E-Learning in Corporate, Government, Healthcare and Higher Education organized by the Association for the Advancement of Computing in Education. His paper, "Using a Multi User Virtual Environment for Professional Development with Parent Educators," was published by LearnTechLib, an online resource for aggregated, peer-reviewed research on the latest developments and applications in learning and technology by the world's leading publications and authors.
A nationally recognized expert on children, parenting and families, he was a single parent. He administered the Northeast Parent and Child Society's Parent Education and Coached Visiting Programs and, as a clinician, coached parents whose children were in foster care with the state Office of Children and Family Services. Brown's specialized education includes leading the Nurturing Fathers Program, a 13-week training course designed to teach parenting and nurturing skills to men. He earned the National Council on Family Relations' Certified Family Life Educator credential.
His many volunteer professional activities included membership in the National Parent Education Network and the New York State Parent Education Network, where he was a tier III credentialed senior parenting educator. He also volunteered with the Community Fathers Program of Schenectady and with the First Reformed Church of Schenectady, where he was a congregant.
The Schenectady County Bar Association selected Brown as its 2018 Liberty Bell Award recipient. In making the award, the bar association stated that he "… exemplifies the mission of SCBA to facilitate the administration of justice (and) elevate standards of integrity within the justice system."
His many other awards include:
The 2005 Spirit of the Alliance Award, from the Alliance for Children and Families, Milwaukee, Wisconsin.
The 2004 Child Welfare Worker Award, Mid-Atlantic Region, from the Child Welfare League of America, Washington, D.C.
Co-recipient, Caseworker/Social Worker of the Year Award for Upstate New York, from the Council of Family and Child Caring Agencies, Syracuse, New York.
Discussions about the establishment of a college scholarship in Brown's name have begun and additional information will be shared as it becomes available.
About Lynn Ann Hinds McCoy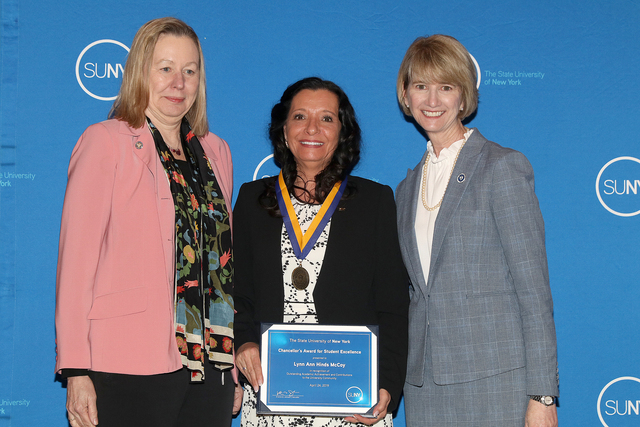 Lynn Ann Hinds McCoy '16, a resident of Canastota, has completed the requirements for the Master of Arts in Adult learning, with a 3.7 GPA, and will graduate this spring.
"I was honored to have been selected, but very pleased to be able to represent SUNY Empire State College on the state level," said Hinds McCoy. "I am inspired by the valuable human connections I have made at ESC and motivated by the opportunities to facilitate other students."
Hinds McCoy began accumulating credits decades ago, from several different colleges and universities, as the spouse of an active-duty military member. Her journey as a nontraditional student had many interruptions due to that affiliation.
She says her intrinsic motivation to succeed as an individual and, ultimately, to provide for her children were the compelling factors to complete her degree.
She came to SUNY Empire in September 2015 and, in addition to her transfer credits, earned credit for college-level learning acquired through work and life experience through the college's individualized prior learning assessment process. As a result, in less than one year, Hinds McCoy completed her Bachelor of Science in Business, Management and Economics, with a GPA of 3.9.
Hinds McCoy began her professional career in 1993, when she completed her LPN in nursing from Madison-Oneida BOCES, with a 4.0 GPA. Her experience in the private sector includes clinical, hospital and facility, hospice, pediatric life-support and private-duty nursing.
After many years of working in environments requiring life-and-death decisions, she said she needed a new direction and accepted the opportunity to join an entrepreneurial venture with startups, building several companies from the ground up, and transitioned to a position in human resources.
Most recently, she was director of human resources for Everis, Inc., Frankfort, New York, from October 2002 to December 2017.
As a SUNY Empire student, Hinds McCoy serves on the executive board of the Graduate Student Collaborative, an alumni/student club. She also served as treasurer for that club and formed an ad hoc committee to explore graduate student opportunities for greater research and collaborative efforts with faculty.
Hinds McCoy is also the Central New York region student representative on the college's Student Affairs Committee and the School for Graduate Studies' student representative on the Senate, the collegewide governance organization. She also volunteers with Alumni Relations to support events and activities and participates in college conferences.
In addition, as a member of the college's Student Leadership Institute, she is undertaking a project to benefit Joseph's House in Syracuse, an organization that provides emergency shelter to homeless pregnant women, new mothers and their infants.
Currently, Hinds McCoy is working with the college's Office of Advancement to establish a scholarship in the name of the late Wales Brown, her friend and fellow graduate student, who was a member of the Graduate Student Collaborative and a 2019 chancellor's award recipient. Brown died earlier this year after a short illness.
Hinds McCoy is a lifetime member of the Girl Scouts of America and an active member of a veterans support group and chairs its annual appreciation ceremony. For many years, she served on the Mt. View Association Legacy Committee, which is committed to preserving the Adirondack Park for future generations. Also, She chairs the Bereavement Committee at Our Lady Queen of Apostles, in Frankfort, and is a consistent supporter of and volunteer for the Neighborhood Community Action Project, which benefits struggling families.
Inspired by her academic and educational journey with SUNY Empire, Hinds McCoy's current goal is to help other adult students to complete their degrees.
About Tatiana C. Parker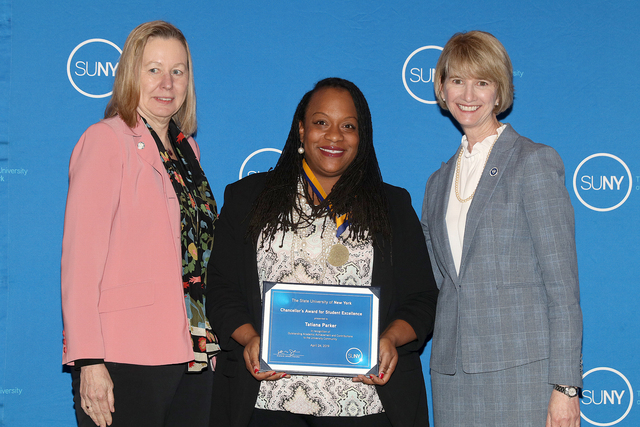 Tatiana C. Parker, a resident of North Syracuse, completed her Master of Arts in Social and Public Policy, with a GPA of 3.63, her third SUNY degree.
"I immediately felt extremely honored and humbled when I learned I was selected for the SUNY chancellors award," Parker said. "To be among the ranks of so many dynamic students SUNYwide, both this year and in years past, who are consistently working to leave our institutions and society better, is almost surreal and is one of the most reaffirming experiences of my academic career."
In addition to her master's from SUNY Empire, she completed a Bachelor of Arts in Political Science, with a minor in Public Policy and Administration, from SUNY Oswego and an Associate of Science in Human Services, with a concentration in Substance Abuse, from Onondaga Community College.
"Getting my education, serving my community, and mentoring others has always been about those who are coming up after me, and those who lack the agency to advocate for themselves. The more I learn, the more I can share with others, and the better we will be able to move forward as a community to address our most pressing issues," Parker said.
Parker completed her master's while working full time, managing a household that includes two children under 10 and participating in community service.
Parker was recognized as one the Central New York Business Journal's "2018 40 Under 40" and completed Leadership Greater Syracuse's yearlong program as part of its 28th class.
The college recognized her in 2018 with its Student Service Award.
In 2017, she completed the Nourishing Tomorrow's Leaders, a local initiative designed to increase the diversity of nonprofit boards and organizations in Central New York.
As a volunteer speaker for an introductory human services course at Onondaga Community College, she has inspired approximately 90 college students to seek, find, and develop their passion and capacity as professional change agents in the Syracuse community.
Parker created her own company, Butterfly Entertainment, to educate, create unity and contribute to the well-being of the community by empowering individuals. Butterfly, she says, strives to foster and share a sense of cultural pride, a thirst for diversity, community togetherness and social action by entertainment, social action programs, and self-improvement measures.
Her efforts with Butterfly includes the creation of the Facebook page, "Social (action) Butterfly," in 2017. The page, which she manages, acts as a community conduit for information, job and other training opportunities, and self-development and networking events. As a result, nearly 500 people have been connected to new careers and civic engagement opportunities.
Today, Parker works as the director of constituent services for New York Sen. Rachel May (D-53); serves as a member of the Onondaga Citizen League Board of Directors and the Human Service Department Steering Committee at Onondaga Community College, and is the public relations chair for Lambda Kappa Mu Sorority, Inc., a sisterhood of business and professional women.
About Julian Wyllie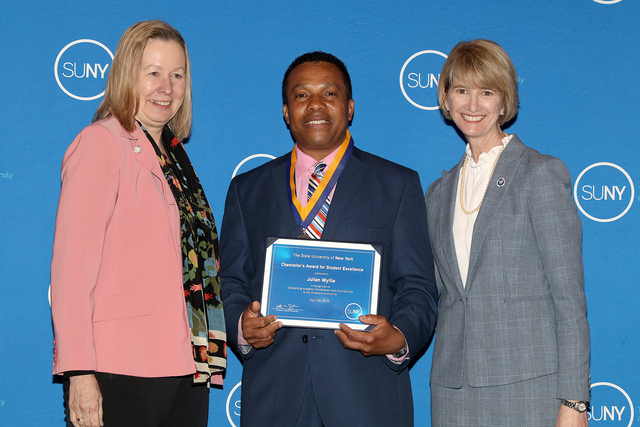 Manhattan resident Julian Wyllie '18, who emigrated from Saint Vincent and the Grenadines, works in senior management at Target's Harlem store. He completed his MBA at SUNY Empire in 2018. His thesis, presented to senior leadership at Target Corporation, focused on ways to increase foot traffic in the food and beverage departments in Target stores.
"Never in my wildest dreams did I ever think that migrating from a small Island in the Caribbean would bring me to ESC and, years later, get a chancellor's award," said Wyllie. "ESC helped me set the foundation I needed to move forward, and the credit goes to everyone in this institution. This achievement is my biggest to date and I am going to cherish it forever."
Wyllie said he went to the college's Manhattan location on a Saturday morning to learn more about the after seeing an ad on a subway train.
The first person he met, Professor Jill Hamberg, impressed him with her positive attitude and knowledge. Wyllie then decided to enroll.
Hamberg became Wyllie's faculty mentor and the two have remained friends. He says that he cherishes the relationships he developed with his mentor and other professors and that other students share his sentiments.
"I know I made the right choice coming to Empire State College," Wyllie said.
Wyllie is active as a student leader, member of the college community and participates in the life of the college. He is a founding member of several student/alumni clubs and organizations, including:
The Black Male Initiative, founding member and first club secretary.
Graduate Student Collaborative, first vice president.
Society for Entrepreneurship, where he served as the club's first secretary and its second president.
Wyllie successful completed the college's Student Leadership Institute, a yearlong commitment, as a member of the 2017 cohort. He served as the graduate student representative on the college's Student Affairs Committee and on the college's 2017 Provost Selection Committee, the Academic Master Plan Committee and Graduate Student Policy Committee. Wyllie participated in the 2014 and 2016 fall student conferences where his presentations, individually and with a group, won awards.
Wyllie volunteered on election campaigns for former New York City Mayor Michael Bloomberg's and current Mayor Bill de Blasio, as well as for presidential candidate Bernie Sanders.
About The Chancellor's Award for Student Excellence
Each year, campus presidents establish selection committees, which review nominations of exemplary students.
Selected nominations are forwarded to the chancellor's office and subject to a second round of review by a committee, which includes members of the chancellor's office, the provosts office and other professionals at SUNY system administration.
Finalists then are recommended to the chancellor for her determination.
Each award recipient receives a framed certificate and medallion, which is worn at commencement and other academic events requiring regalia.