January 27, 2020
SUNY Empire State College Launches New Initiatives to Deepen Understanding of Holocaust's Legacy
Newly Created Presidential Task Force on Diversity and Inclusion Turns Focus to Anti-Semitism

SUNY Empire to Screen "France Divided"—a Collection of Interviews of Holocaust Survivors, Resistance Fighters, and Others—this Friday in Saratoga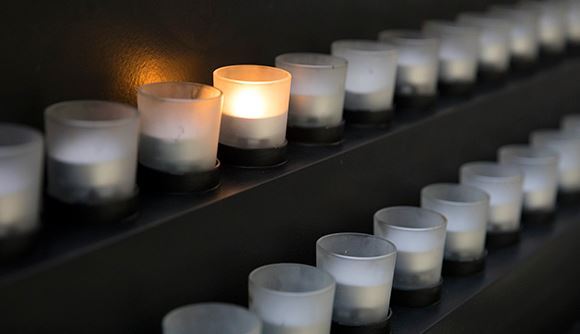 (SARATOGA SPRINGS, New York – Jan. 27, 2020) In honor of World Holocaust Remembrance Day, SUNY Empire State College's newly created Presidential Task Force to Enhance Diversity and Inclusion announced its support to integrate Holocaust history studies into SUNY Empire's graduate-level teacher education programs as well as the college's Graduate School residency.
The initiatives are the first to come out of the recently formed Task Force created by SUNY Empire President Jim Malatras to proactively foster a more inclusive and equitable educational and work environment across the college. The task force's mission is to expand opportunities for underrepresented groups, coordinate initiatives to increase diversity, enhance academic support, and expand public policy research on issues of equity, tolerance and inclusion and to do so in real time as emerging issues arise.
The Holocaust studies initiative is being led by Associate Dean of the School for Graduate Studies Eileen M. Angelini, who is collaborating with colleagues to infuse Holocaust education into various graduate-level courses. Dr. Angelini will work with faculty across SUNY Empire to ensure they are prepared to deliver it in the classroom.
"Seventy-five years after the liberation of Auschwitz-Birkenau death camp, we are still fighting racism, anti-Semitism, and fascism the world over—including right here in New York," said SUNY Empire State College President Jim Malatras. "It has to stop — and that starts with education. We need to honor the survivors, and the memories of those who lost their lives by making sure history is not repeated. Incorporating this history into our curriculum is an important step."
Dr. Angelini, in partnership with Barbara P. Barnett, co-authored and directed "France Divided," a documentary focused on the often-misunderstood division of France during World War II. The pair interviewed Holocaust survivors and allies, and shared the stories of the French resistance who fought to free their country from occupying forces and keep safe Jewish citizens.
"I made a promise to all the survivors I interviewed that their stories would never be forgotten, and every time I am invited to screen "France Divided," I am able to maintain my promise to them," said Angelini.
SUNY Empire will host a free screening of "France Divided" this Friday, Jan. 31 at 1 p.m. at 113 West. Ave. in Saratoga Springs. This event is open to the public and will include a conversation with Angelini.
About SUNY Empire State College
SUNY Empire State College educates students at any stage of life with a personalized learning experience delivered online, in person, or a blend of both. Since 1971, SUNY Empire has empowered students to earn an accredited degree around the demands of a busy lifestyle to advance their personal and professional goals. With world-class faculty, more than 1,300 dedicated mentors to help students tailor their degree programs, and cutting-edge distance learning technology, SUNY Empire delivers a trusted and flexible online college experience grounded in more than 30 New York state locations and seven international sites where students can learn and collaborate in person. Our nearly 50 years as a leader in awarding credit for prior learning and life experience helps students earn a degree faster and at lower cost. To learn more, visit www.esc.edu and follow @SUNYEmpire.