March 30, 2020
SUNY Empire State College Community Volunteers and Gives in Response to COVID-19
More than a Dozen Faculty Members Respond to New York State's Call for Qualified Mental Health Volunteers

Students, Faculty Organize Response Efforts in Their Communities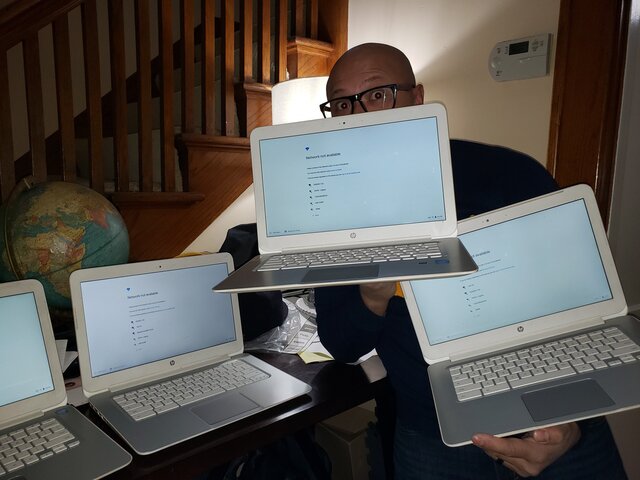 (SARTOGA SPRINGS, NY – March 30, 2020) The SUNY Empire State College community is volunteering, organizing, and donating in response to the COVID-19 pandemic, including more than a dozen faculty members who have answered New York state's call for qualified mental health professionals to volunteer their services in the state's response efforts.
Last week, Governor Andrew Cuomo asked for volunteers to help supplement the state's healthcare capacity on a temporary basis, anticipating a growing need for mental health services amid the COVID-19 pandemic. As of Friday, March 27, 13 SUNY Empire faculty members had responded, with seven more volunteering in other capacities.
In addition to this response, SUNY Empire students, alumni, faculty, and staff are finding ways to connect and help those in need in their communities across the state. Click here to see photos of SUNY Empire's outreach efforts.
"Once again, the SUNY Empire community is rising to this challenge, volunteering their time, resources, and expertise to help their neighbors in these difficult times," said SUNY Empire State College President Jim Malatras. "Now is the time to work together, to show compassion, to give what you can. We will pull through this together."
Student Organizes ConnectLife Blood Drive (April 9)
SUNY Empire State College student Jennifer Torres has organized an appointment-only blood drive at ConnectLife in Buffalo where she works as an eye and tissue recovery technician. ConnectLife is Western New York's only community blood center and federally designated organ, eye, and tissue procurement agency.
"I am sponsoring this drive because right now there is an urgent need for blood in Western New York," said Torres. "I am an employee of ConnectLife and its mission means a lot to me as a longtime donor. We are a community blood bank, meaning the blood we collect and bank stays local within the community hospitals. When donors step up, they are saving the lives of our neighbors. One pint can save up to three people! It's amazing to know you're helping those in need and can make such a huge difference to someone."
Torres is in her final semester at SUNY Empire. She is on track to earn her bachelor's of science in biology.
Alum Donates Computers to Elementary and High School Students
Dr. Emad Rahim '03, and his wife surprised students in the Syracuse City School District with Chromebooks, which they purchased to ensure students at McKinley-Brighton Elementary School, Roberts Elementary School, Bellevue Elementary School, and Fowler High School will have the resources they need to study at home. Rahim was contacted by social workers, youth pastors, and teachers, all asking if he knew of any programs offering free laptops for students.
"With the libraries and community center closed due to COVID-19, this made it more difficult for these students to engage in online learning and home schooling," said Rahim. "Instead of waiting, my wife and I decided to help by purchasing the laptops ourselves."
Dr. Rahim earned his bachelor's degree in community human service in 2003. He then went on to get his two master's degrees, and a doctorate of management from Colorado Technical University. He was the recipient of SUNY Empire's Alumni Community Impact award in 2018.
Employee Creating Homemade Masks
SUNY Empire State College Career Development Coordinator Anita Brown has been busy sewing at home, and in just two weeks has donated more than 100 Centers for Disease Control-compliant masks. She has sent them to Saratoga Hospital, three local physicians' practices, a doctor's office in California, and to family members in Rome, Italy.
"My cousin reached out to me to ask if I knew of anyone who would be willing to make masks for a friend of hers who needed face masks," said Brown. "They were days away from running out of their supply. At a time of feeling quite helpless, I wanted to be able to do something, quite frankly anything. This is just a little way to help. I'll keep making them until I run out of elastic."
Individuals who are immunocompromised and unable to locate a mask should contact Brown (anita.brown@esc.edu) and she will make every effort to fulfill requests.
SUNY Empire Establishes Emergency Fund
SUNY Empire State College and the Empire State College Foundation have established a fund to provide grants of up to $500 to assist enrolled students who are experiencing difficulty completing their studies due to the impact of coronavirus. In less than two weeks, more than 1,000 students have applied.
About SUNY Empire State College
SUNY Empire State College educates students at any stage of life with a personalized learning experience delivered online, in person, or a blend of both. Since 1971, SUNY Empire has empowered students to earn an accredited degree around the demands of a busy lifestyle to advance their personal and professional goals. With world-class faculty, more than 1,300 dedicated mentors to help students tailor their degree programs, and cutting-edge distance learning technology, SUNY Empire delivers a trusted and flexible online college experience grounded in more than 30 New York State locations and seven international sites where students can learn and collaborate in person. Our nearly 50 years as a leader in awarding credit for prior learning and life experience helps students earn a degree faster and at lower cost. To learn more, visit www.esc.edu and follow @SUNYEmpire.