June 17, 2020
SUNY Empire State College and Villa of Hope Partner to Combat Rising Opioid Misuse, Expand Educational Opportunities for Employees
Partnership Lowers Barriers to SUNY Empire's 110+ Degrees, All of Which Can Be Completed Online

Includes New Bachelor of Science in Addiction Studies, as Villa of Hope Expand Addiction Treatment and Recovery Services

Villa of Hope Employees Can Earn College Credit for Prior Life Experience, Further Lowering Cost

Villa of Hope's 400 Employees Provide Critical Services to More Than 4,000 Individuals throughout Rochester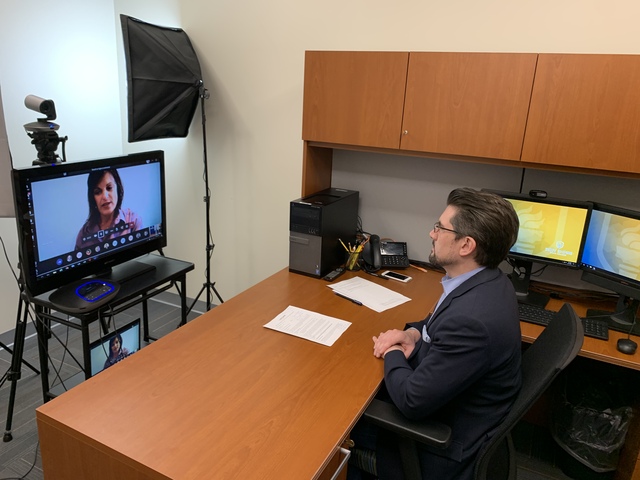 (ROCHESTER, NEW YORK – June 17, 2020) SUNY Empire State College and Villa of Hope Youth and Family Services today announced a partnership to help Villa of Hope employees and their family members advance their education in any of SUNY Empire's more than 110 undergraduate and graduate-level degree programs, all of which can be completed online.
Like so many other areas of New York state and the nation, Monroe County has witnessed an alarming increase in opioid misuse. Compared to last year at this time, overdoses have jumped 25.8 percent, while the number of fatalities has climbed 38 percent.
Later this year, Villa of Hope intends to expand its behavioral health department with a clinic to provide detox and recovery services to help those fighting addiction. Through the new partnership, employees will now have increased access to SUNY Empire's new bachelor of science in addiction studies, one of the few bachelor-level addiction studies programs nationwide and one of just three in New York. The degree can be completed entirely online to accommodate the busy schedules of working professionals, or in blended online and face-to-face programs at SUNY Empire's Rochester campus.
Villa of Hope has long served the Rochester community, first as an orphanage when it opened in 1942. Nearly a century later, Villa of Hope provides critical services to more than 4,000 individuals and families each year, many struggling with complex emotional and behavioral issues. Through its residential, educational, and community programs, Villa of Hope collaborates with schools, health care providers, county and state agencies, and the judicial system to assist its residents as they redirect their lives to find a positive path, rebuild relationships, and recover potential.
"As we face the COVID-19 pandemic on top of the opioid epidemic, the Rochester community needs the critical services of Villa of Hope now more than ever," said SUNY Empire State College President Jim Malatras. "SUNY Empire is proud to partner with Villa of Hope to help its employees earn a degree and advance their careers. I'm grateful to Gerianne Puskas, Villa of Hope's chief advancement officer, for her leadership and for sharing in SUNY Empire's commitment to bettering our communities through education."
"Villa of Hope is thrilled to see this partnership come to fruition," said Gerianne Puskas, chief advancement officer at Villa of Hope. "To align with our Vision 2030, SUNY Empire State College worked with us to remove barriers for several social determinants of health for our staff – education, economic stability and employment. This is a great step not only for our staff team, but for the quality of programming we provide our neighbors and community. We want to help not only people we serve to achieve their potential throughout their lifetime, we want it for our dedicated employees as well."
In addition to accepting transfer credits, Villa of Hope employees may be able to further reduce time to graduation with transfer credits from traditional colleges and universities, as well as credits earned through SUNY Empire's one-on-one individualized Professional Learning Evaluation (PLE). The PLE process identifies college-level learning acquired through workplace learning, licenses and certifications. SUNY Empire will waive the registration fee and provide a $100 Presidential Scholarship to all Villa of Hope employees who matriculate into a SUNY Empire program.
To view pictures from today's event, please click here.
About Villa of Hope
You can learn a lot about us from our name. And each part of the Villa of Hope name is equally important.
While only a portion of those we serve actually reside on campus, in our youth residential programs, we provide a home to everyone who comes to us in need. And they find all that they deserve in a home. Acceptance. Love. Support. Comfort. Guidance.
As often as possible, that home is their very own residence, and we help them remain there safely with loved ones, and with strategies for success.
The other portion of our name speaks volumes about what we provide, regardless of what troubles bring each person to our door.
Whether you or a loved one are struggling against chemical dependency, mental health concerns or education issues, our dedicated staff of professionals provide hope.
And hope is a good thing. Maybe the best of things.
About SUNY Empire State College
SUNY Empire State College educates students at any stage of life with a personalized learning experience delivered online, in person, or a blend of both. Since 1971, SUNY Empire has empowered students to earn an accredited degree around the demands of a busy lifestyle to advance their personal and professional goals. With world-class faculty, more than 1,300 dedicated mentors to help students tailor their degree programs, and cutting-edge distance learning technology, SUNY Empire delivers a trusted and flexible online college experience grounded in more than 30 New York state locations and seven international sites where students can learn and collaborate in person. Our nearly 50 years as a leader in awarding credit for prior learning and life experience helps students earn a degree faster and at lower cost. To learn more, visit www.esc.edu and follow @SUNYEmpire.