April 13, 2022
SUNY Empire State College Signs Partnership Agreement with José Limón Dance Foundation
Partnership paves the way for José Limón Dance Foundation dancers, alumni, students, employees and retirees to earn a degree through SUNY Empire State College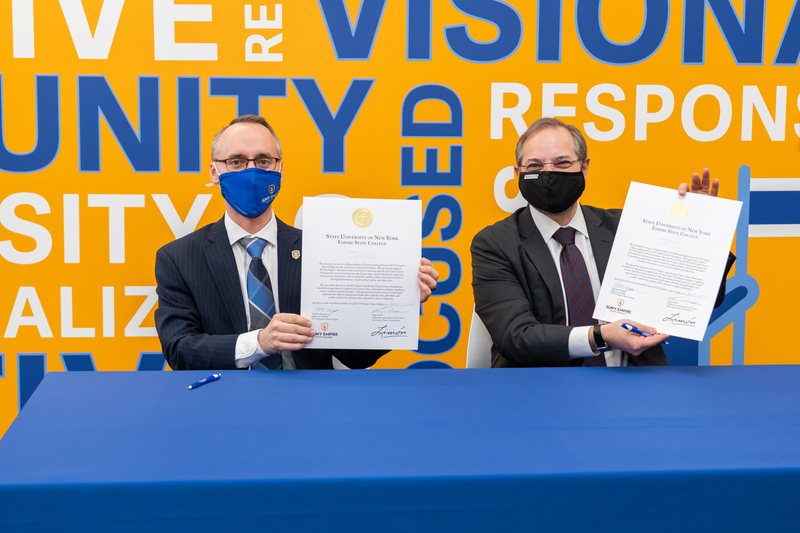 (NEW YORK, NY– April 11, 2022) José Limón Dance Foundation and
SUNY Empire State College held a formal signing ceremony to celebrate an educational agreement offering José Limón Dance Foundation dancers, alumni, students, employees, retirees, and their family members a direct pathway to earning a degree at SUNY Empire.
The agreement also gives José Limón Dance Foundation participants the opportunity to earn college credit for their professional training in the performing arts, as well as a fee waiver and scholarship.
The event was held at SUNY Empire's Manhattan location at 4 Park Ave.
Chairman of José Limón Dance Foundation Board of Director Ivan Sacks and SUNY Empire Officer in Charge Nathan Gonyea formally affirmed the agreement in writing.
SUNY Empire Officer in Charge Nathan Gonyea, Ph.D. said,
"We are honored to make this partnership with the José Limón Dance Foundation official. One of the great things about this partnership is that it will provide a convenient, flexible, and affordable way for Limón dancers and employees to earn their undergraduate or graduate degree while they are still performing and working in the arts to reach the next stage of their career."
Chairman of José Limón Dance Foundation Board of Director Ivan Sacks said,
"The José Limón Dance Foundation is a perfect organization to partner with SUNY Empire to provide life-long learning for our disciplined dancers. The SUNY Empire student body and faculty members will have the opportunity to engage with the dance foundation through performances, internships, and other collaborations in the future. We're really excited about the partnership and all that it represents."
SUNY Empire State College alumna '97, member of Empire State College Foundation Board of Directors and José Limón Dance Foundation Board of Directors Tina Evans Ph.D. said,
"I am thrilled to see this partnership between SUNY Empire State College and the José Limón Dance Foundation. My familiarity with both organizations, their members and their leadership give me great confidence in how this partnership will be complementary of each organization's strengths and, in doing so, will allow for growth in opportunities to align education and the arts."
SUNY Empire State College Dean of School of Arts and Humanities Nicola Marie Allain, Ph.D. said,
"At SUNY Empire, we have a long tradition of working with students in our undergraduate and graduate programs who are in performing arts fields. Our educational model, including working with professional dancers and artist on the college level learning embedded in their professional experience, is a wonderful fit with the José Limón Dance Foundation. On a personal note, having studied under Limón dancers in my own graduate degree, I have a full appreciation for the many ways we could grow this partnership together."