April 12, 2022
SUNY Empire State College Signs Partnership Agreement with Capital District Educational Opportunity Center
SUNY Empire signs its seventh partnership with an Educational Opportunity Center for students, graduates, employees and their family members gain access to flexible and affordable education.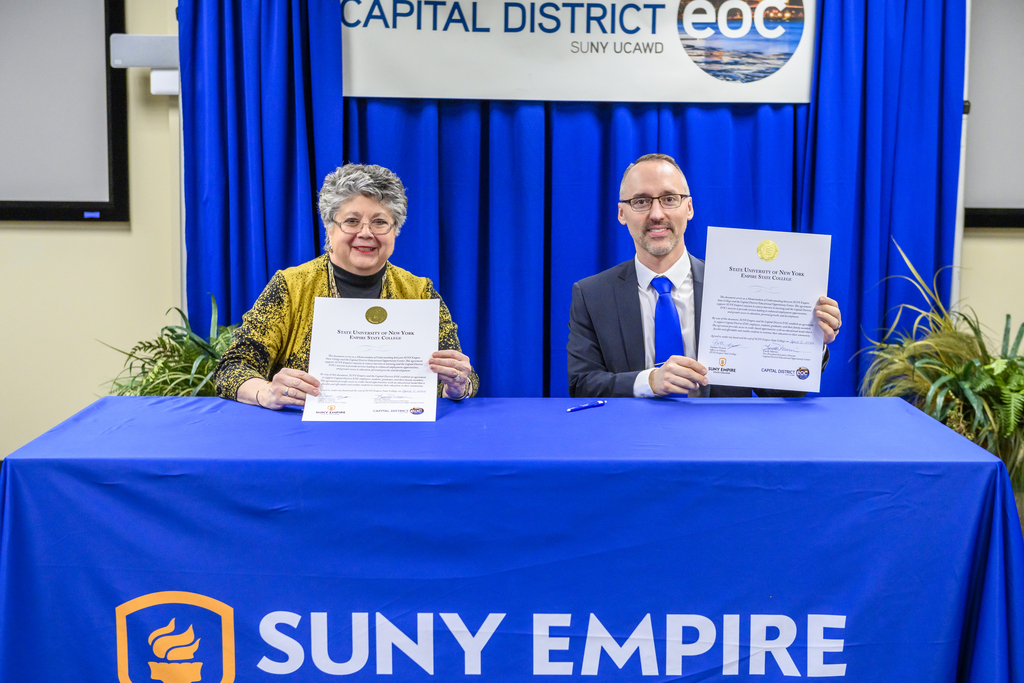 SUNY Empire State College
 and 
Capital District Educational Opportunity Center (CDEOC)
, a division of Hudson Valley Community College, which delivers comprehensive, community-based academic- and workforce-development programs, finalized a partnership agreement offering college degree options to CDEOC students, graduates, employees, and their family members. This is the seventh Education Opportunity Center to partner with SUNY Empire.
The partnership supports SUNY Empire's mission to remove barriers to learning and CDEOC's mission to provide innovative academic programs leading to higher education, and vocational training programs leading to gainful employment and economic self-sufficiency.
This agreement provides access to credit-based opportunities with a flexible, affordable educational model that allows students to continue their education in their community.
The partnership agreement allows CDEOC participants to participate in the college's 
Corporate and Community Partnership Benefits Program
. As part of the agreement, SUNY Empire will waive the orientation fee for incoming students and provide a $100 Better Together scholarship for participants who enroll in a degree-seeking program at SUNY Empire State College.
All programs can be completed entirely online to fit the busy lives of working professionals. Participants will also benefit from SUNY Empire's prior learning assessment, which awards college credit for relevant work and life experience, reducing the overall cost and time needed to complete a degree.
One of the opportunity programs at the forefront of the partnership with CDEOC is the 
Empire State Opportunity Program
, which provides access, academic support, and financial assistance to full- and part-time students from historically disadvantaged backgrounds who show promise for college success — at all stages of life and learning. The college also offers the Empire Promise Program (EPP) and the SUNY Educational Opportunity Program (SEOP).
SUNY Empire State College Officer in Charge Nathan Gonyea, Ph.D., said, "I think the shared philosophy between SUNY Empire and the Capital District Education Opportunity Center is what makes these partnerships special. We're providing access to opportunity and unlocking that student potential to advance their skills and the education that they get both at the Capital District EOC and at SUNY Empire. This partnership will provide a lot of opportunities not just for students, but also the Capital Region as a whole."
Executive Director of CDEOC and Vice President at HVCC Lucille Marion said, "This a wonderful opportunity that is transpiring between SUNY Empire and the Capital District Education Opportunity Center. This partnership agreement is going to allow students who come through the CDEOC a more direct pathway to SUNY Empire and provide opportunity to our community. There is a commonality of 'opportunity' between the EOC's around New York state and SUNY Empire, which is the core of what SUNY Empire is all about."